Best online selling solutions
Product blog
IdoSell Shop
We have reached 99,9653% of uptime (SLA) for our services in 2018
As every year, we have conducted a detailed analysis of the availability times of IdoSell Shop online stores whose servers we care for every day. In 2018, the measured SLA amounted to 99.9653%. This means that the average virtual server was not available for 182 minutes and 32 seconds. This confirms that thanks to many years of work we have managed to develop the availability of such a complex service at higher levels than the highest market standards and standards for static site hosting.
How do we measure SLA
The reached 99.9653% SLA is an arithmetic average for all, over 4500 virtual machines and stores we supported in 2018.
SLA is measured with the widely-available Nagios system monitoring software, which checks the health of server utilities (e.g. the ability to a database, server load, disk space etc.) at a interval. If a server reports problems, we measure its availability more frequently. In addition to gathering standard statistics, our also simulates real users by trying to place orders in shops, which in turn verifies whether the checkout process works correctly. We consider this crucial in assessing the overall shop availability.
Planned maintenance windows are not considered as downtime. In 2018 there was one significant maintenance window. Service work was performed at night between 24:00 and 7:00 when traffic in online stores is low. During service windows, downtime is not included in the SLA.Downtime caused by a given shop being migrated or its server being reconfigured on customer's request, is also not considered for the purposes of SLA.
In IdoSell Shops there are no service windows for the system updates. Our customers' systems are updated, ensuring data integrity and uptime are not affected. We have developed a unique technology of performing such updates in real time, without interrupting normal sales processes.
More information on how we measure SLA and how to check it for your online store can be found on the website SLA SLA - a guarantee of high availability of an online store.
How do we reach such a high SLA level?
We have been investing in the best available hardware and software solutions. Many components are created in-house by our specialists. For example, instead of having our administrators monitor the system manually, whose reactions can be delayed, we invested in our own system of detecting any incorrectness, and making decisions in case of any problems in the blink of an eye (e.g. whether to restart the service/server), even by simulating real users.
Constant development allowed us to create, unique for the Polish e-commerce, mechanism for page generation acceleration. This mechanism not only speeds up the loading of store pages, but also reduces server load. Each operation providing data per page is checked on a multi-level basis. If the data has already been read in, the system uses it again. The entire operation takes place instantly and is optimal for server infrastructure.
Because we serve thousands of online stores every day, we have to deal with increased traffic and its peaks. One of the biggest challenges in 2018 was to ensure uninterrupted work of stores during Black Friday, Cyber Monday, Free Delivery Day and throughout the pre-Christmas period.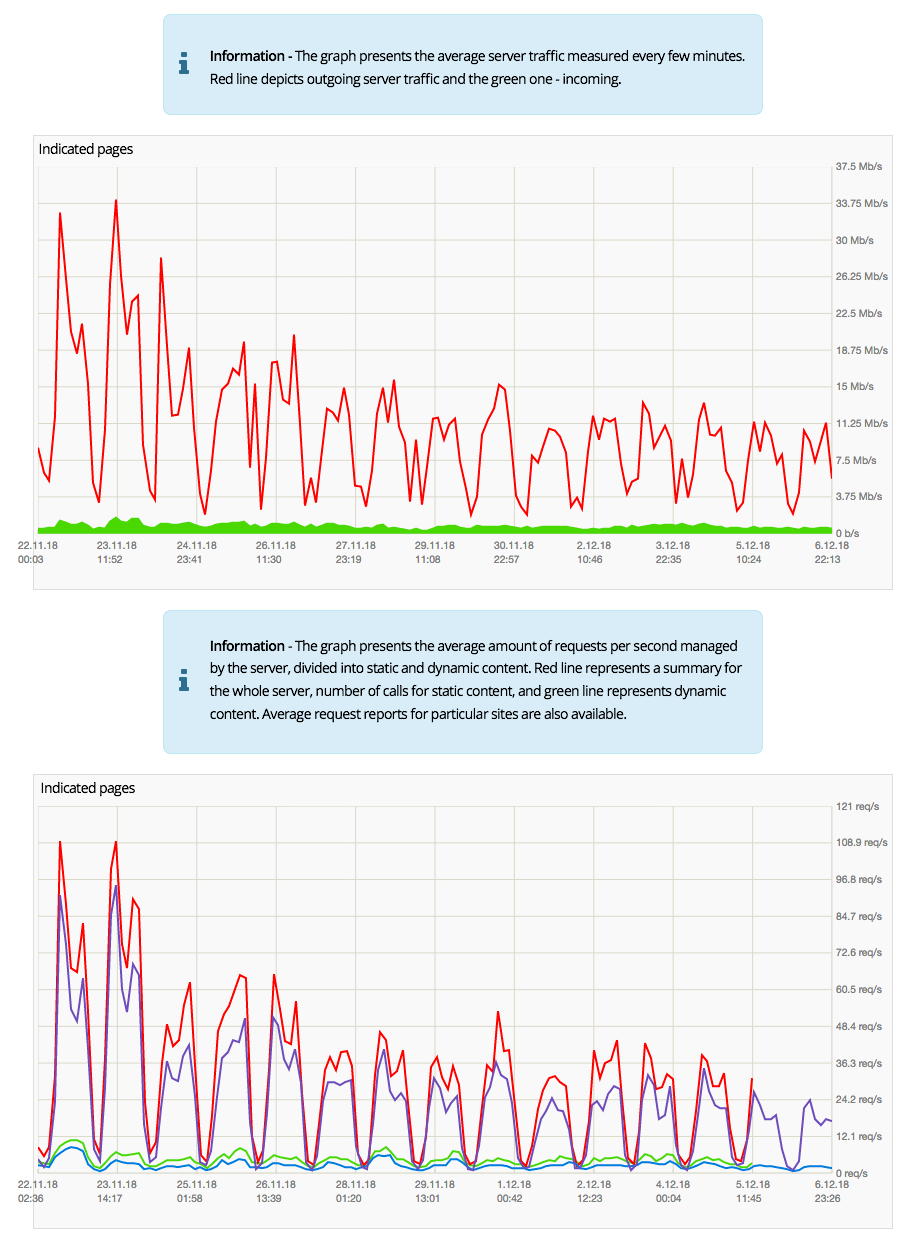 The graph presents the number of inquiries and their increase by static and dynamic pages in the store of one of our clients from November 23 (Cyber Monday) through November 26 (Black Friday) to December 5 - Free Delivery Day. Increased traffic in the store was served on DC32 server, without interruptions in the operation of the store, with the time we set up loading pages of the store below 1 second. The store used the page generation acceleration mechanism, which allowed to reduce the load on servers during the largest traffic. Interestingly, the operations took place instantly and were optimal for the server infrastructure. It is worth noting that the page generation acceleration system is built into the code of each store and is available at no extra charge!
Why is this information important?
The sales peak period is behind us. In this hot Christmas season, online stores IdoSell Shop recorded an average 20% more traffic than in previous months. Support for increased traffic and sales peaks in the IdoSell Shop is not a major problem. SLA close to 100% confirms that the stores were available to customers at virtually every moment, thanks to which stores could maximize sales and build loyalty and trust among their clients.
As you can see, the featured fashion store in the peak sales period of the previous year was available in almost every second of its operation.
The situation is different in the case of Open Source software, in which support for increased traffic may not be possible or will be very expensive. Similarly, the situation looks like in SaaS systems for hobbyists, where the sales peak period is possible only if there is a low traffic in the online store.
In the coming years, we want to continue to work on the high quality of services, not sparing the expenses on the best possible network devices, servers, arrays and specialized software. At IdoSell Shop, we always focus on safety and the convenience of all customers.
Thanks to many investments, we want to be a determinant of quality for the e-commerce market. Our goal is to effectively achieve 100% availability of our clients' online stores. We publish information about the achieved SLA, because we have nothing to hide, and the information we provide can be easily verified by you in the CSC panel.