IAI RS (IAI Recommendation System) is an intelligent recommendation system which meets customers' requirements by providing them with personalised suggestions of the products which might be of interest to the customers. The system collects information about correlation between products and about customers' behaviour in order to generate high quality recommendation models.
IAI RS uses machine learning methods, advanced algorithms of artificial intelligence and collaborative filtering. Some solutions which are used by IAI RS are also used by Amazon.com. Needless to say that Amazon.com owes over 20% of its income to recommendations. You do not have to be an international giant to gain access to the innovative and effective personalised recommendation system. Now, thanks to IAI RS it is available for you.
Advantages of enabling IAI RS in your online shop
Using effective recommendation mechanisms in your shop will help you to:


Increase conversion rate – triggering interest in your customers who would probably leave your shop with the impression that it was impossible to find a searched product and it is way much easier to find the product using price comparison sites or marketplaces, like eBay. Even if a customer would be back in your shop via the above mentioned services, you would have to bear additional costs of commissions etc.


Increase an average basket's value – thanks to recommendations of products perfectly matching the products already added to a basket. The system will recognize styles, colors and other parameters itself.


Increase loyalty and satisfaction of your clients – by personalized attitude towards customers which leads to meeting their individual needs or even creating this needs. Customers who can see that a shop "understands" their needs are more eager to come back to such shop. Possibility of finding a perfectly matched product influences a customer's positive impression and a possibility of recommending your shop further.


Increase sales of products from a long tail – thanks to distinguishing groups of customers with particular preferences it is possible to recommend rarely searched products matching these preferences. It results in customer satisfaction and improves sales of products in stock.


Save time and money – IAI RS works in SaaS model and is fully integrated with IdoSell. Thanks to this you do not have to invest either money or time on start. Full integration with the shop's system complements performance of its basic version not limiting functionalities (i.e. discount codes or personalised prices).

Case Study of our Polish customer - CzasNaButy.pl
CzasNaButy.pl is on the Polish market since 2010 and is one of the biggest online shops with women's shoes. We have been conducting a test of implementing IAI RS for three weeks and we have compared it with previous recommendations. In order to verify effectiveness of IAI RS in CzasNaButy we have also conducted A/B tests.
It was necessary to collect data regarding activity of CzasNaButy's customers in order to obtain proper matching of the recommendation system. Basing on the data, IAI RS recommendations have been generated. They were adapted to a user's activity history and to a currently viewed product. The recommendations have been displayed on a product's card in the intended for this purpose field.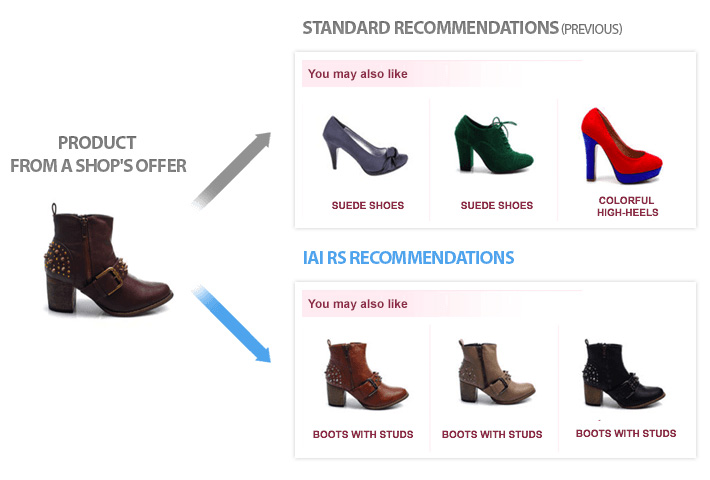 Results
After not even a month the following results have been received: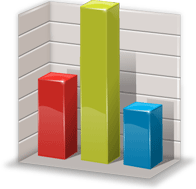 238% increase of clicks on the recommended products – customers clicked on IAI RS recommendations almost 2,5 times more often
1,77% sales boost thanks to IAI RS recommendations - standard recommendations influenced increase of sales only by 0,165%
400% increase of conversion rate from recommendations – customers' clicks on the website resulted in 4 times more frequent purchases
1060% income increase – products purchased owe to IAI RS recommendations generated over ten times bigger income than products purchased as a result of previously used recommendations
If you want to learn more about details of CzasNaButy's case study click here
Learn more about functions and possibilities of IAI RS recommendation system and its settlements model.