Advantages of providing collection points network

The ideal solution in opposition to the use of warehouses as collection points - no limitations on the number of collection points possible to be defined as opposed to warehouses in the panel, you do not unnecessarily involve warehouse logic, you do not have to perform complicated operations such as warehouse transfers.


You provide a very convenient form of collection, which is chosen by more and more online store customers - customers pick up shipments in the vicinity, without queues and often at very favorable times (e.g. after school, after work).


You can personalize the availability of pickup points according the region and products available in your store - you can add independent collection points in every store and country.


You can use the full potential of omnichannel - make your brick and mortar stores as collection points.


You can describe each point accurately and place it on the Google map - customers will know where it is and in what hours they can pick up parcels ordered in your store.
A useful interface for selecting a collection point
1. The customer chooses the delivery form as "Network of collection points" (which you can freely name, eg. "Collection at the point") in the store, when finalizing the purchase.
2. Then the customer searches for the nearest collection point where they want to pick up the parcel:

3. Search results are presented in a very clear way on the Google map: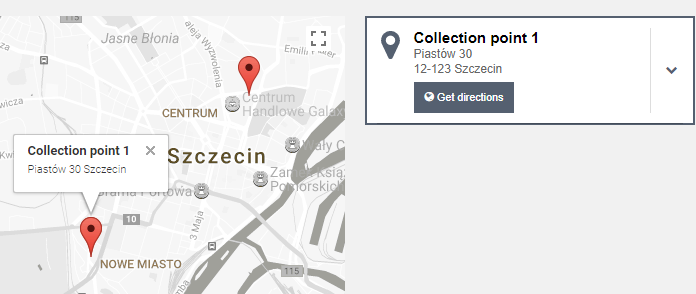 Easy management of the collection points network
You manage your own network of collection points, which you can scale according to your needs and possibilities.
With a fewer number of collection points you can add and edit manually each point separately.
With a more advanced network of collection points, you can use an easy-to-use import and export using CSV and XML files (in the ISF standard).
Using the ISF format you can handle your own collection points in integration with any courier, courier broker or freight company in the world.
For developers [/en/shop/api/ , we provide an extensive API gateway].