Order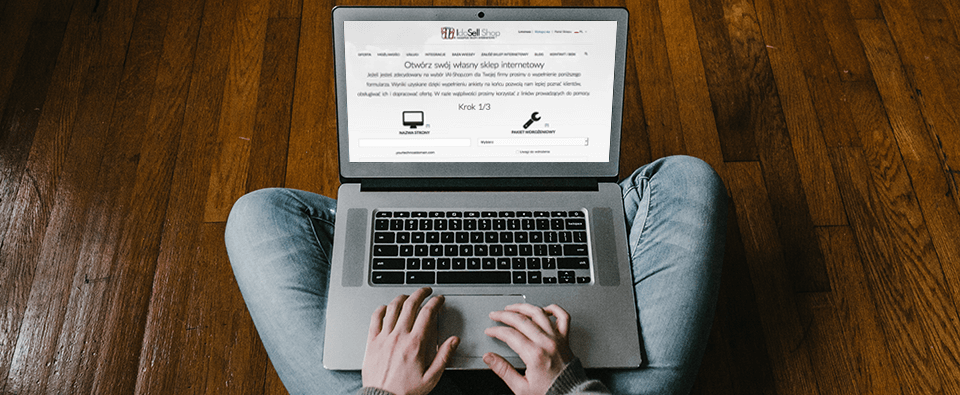 You have decided to choose IdoSell, one of the best online retail and wholesale management systems. To start with, begin with filling out the store order form. At this stage, we do not expect you to know exactly how your online store should look and function. You do not need to have everything priced up. Your store will be installed and ready to work, and further commissioned task, as well as training will improve your store. Remember that in IdoSell every customer receives a working and complete online store. You do not have to worry that if you did not discuss something before implementation, it will change the conditions and the price. All these details will be clarified at the design and training stage.
When filling out the order form, pay attention to these elements:
In the company data (owner), indicate the actual representative as the contact person. In the future, you can always change your company data by making an assignment. If your company is registered, but has not started its operation yet, nothing prevents you from placing an order for an online store. However, it is not possible to order IdoSell for a private person. In this case, please, for example, register a business activity for free, without starting it and provide data of this company while ordering the store.
Enter your current e-mail address and phone number. We will be able to contact you on important matters. For example, when you forget your PIN code, which is necessary for later signing important changes and performing important account operations or you need to reset the password. If you change your phone number or e-mail address, please update this information.
You have 3 options regarding the type of contract that affects the activation fee:

Immediate activation - this is the choice we recommend. Thanks to it, the store installation takes place immediately. You deposit 99 USD net as if you choose an open-ended contract, and after delivering a signed contract for a minimum period of 2 years, this amount will be returned to your account (so-called balance) and you can use it to reduce subsequent payments.
Activation after a signed contract is received with no additional fee - this is a variant recommended for those who are not in a hurry to launch the store and have a limited budget. In this variant, you do not pay the activation fee 99 USD net, but the store will be installed only after delivery of the contract.
Immediate activation in the price of 99 USD net - recommended for everyone who is interested in an open-ended contract.

The technical domain is the domain we generate for each installed panel, in order to allow you to test the store before you direct your own domain to it. The technical domain name does not necessarily match the name of your production domain, but it must be unique. If it turns out that some other store on the IdoSell platform uses the technical domain you wanted to choose, you will have to choose a different domain in this situation. Remember that after selecting the technical domain, you will not be able to change it at a later time.
If store order form is correctly completed, a thank-you message will be displayed and you will receive an e-mail with a summary. It will also be a good time to make an initial payment, which we write about in the next chapter.
Each new store is launched based on the basic subscription plan CLOUD, which allows you to reduce fees during the implementation of the online store. You can change your subscription plan at any time to the one with a flat fee (dedicated server DEDICATED CLOUD). We suggest you do it only when such a change is actually profitable. The technical possibilities of the CLOUD and DEDICATED CLOUD plans at the implementation stage are the same.
If you made a mistake in the order or changed your mind about one of its components (e.g. you would like to use one of the higher implementation packages and you ordered a STANDARD version), you can edit the order. Do not place another order, because then the selected technical domain will no longer be available. The correction option is available in the step 2 of the ordering process or by clicking here.
To go to the next stage, you must have completed:


ORDER BY WWW


INITIAL PAYMENT


CONTRACT


STARTING THE IMPLEMENTATION PROJECT
---
Initial payment
The basis for installing the store and starting our cooperation is to make an initial payment, which is also a confirmation of placing the order.
You make the payment in the second step of placing the order. In addition to the activation fee (unless you have chosen the option "Activation after a signed contract is received for 0"), we will ask you for a payment corresponding to 3 CLOUD subscriptions. This amount will be in your balance.
Of course, if you run a business in Poland, a 23% VAT will be added to all prices. Our balances are conducted in net amounts, which facilitates providing prices of services to clients from different countries. Being an IAI customer, you can have a company in the Czech Republic, Germany, Great Britain and any other country in the world. Interestingly, you can also transfer it there at any time in our cooperation and it will not affect the service and our offer.
You can make the payment with a simple transfer or using the PayU system. You will receive access to the administration panel within one hour or upon receipt of the contract you signed (if you make a deposit and use the contract for a period of 24 months, without an installation fee).
After posting the payment and installing your system, we will send you a welcome message to the e-mail address provided when placing the order. It will contain a link to the administration panel, login and password. During the first login, the system will ask you to change the password to a new one.
With the login and password you can log in to our site to CSC which you will also find in the administration panel of your store. In the CSC you can download the first VAT invoice, issued automatically after posting the first payment. In this place you will be able to always check your IAI settlements and make subsequent payments.
Note: Remember that making a payment is tantamount to confirming the order. At this moment, you formally become our client and from that moment we start to provide the IdoSell service. There will be no work on your store before making a deposit.
To go to the next stage, you must have completed:


ORDER BY WWW


INITIAL PAYMENT


CONTRACT


STARTING THE IMPLEMENTATION PROJECT
---
Contract
Regardless of the type of activation fee you choose, you must provide us with a signed contract. You can generate and sign an agreement in electronic form almost immediately in the CSC panel
We recommend that you do not delay the issue of the contract, and preferably complete these formalities immediately after making the payment. This will allow you to limit the risk, e.g. providing us with personal data without entering into a "Data processing agreement" and will be useful in the case of e.g. control from some office. Additionally, when you choose the option "2. Activation after a signed contract is received for 0" remember that this actually affects the subsequent installation of the system.
To go to the next stage, you must have completed:


ORDER BY WWW


INITIAL PAYMENT


CONTRACT


STARTING THE IMPLEMENTATION PROJECT
---
Starting the implementation project
After receiving the message with the activation of the store and signing the contract you have sent, we can officially welcome you to the group of new users of the IdoSell service - thank you for your trust. What distinguishes IdoSell from other SaaS solutions on the market is a comprehensive approach to each project. Regardless of which implementation option you choose, our specialist will always look after your comfort while working on your store.
Remember that you have the following implementation options, as it is provided on the page devoted to the implementation packages:
You can decide on a store in STANDARD version and after 30 minutes, start completing it yourself with content, rebuild the template or import products. In this variant, you do not even need to contact IdoSell support to carry out the implementation. This solution is recommended for people with many years of experience in e-commerce, supported by implementations of at least a few online stores and preferably several on the IdoSell platform or those who want to quickly launch a simple online store based on one of the STANDARD templates.
You can order the store by selecting one the available implementation packages, within which you commission us with the most difficult work. Together we will determine the scope of work that we will prepare for you and which work you will do yourself. The cheapest and containing the least hours BASIC implementation package is 25 work hours. On the other hand there is the BESPOKE implementation package with the possibility of composing any implementation over 160 work hours. Interestingly, our implementations do not depend on how much turnover you will achieve, or how much data you will import, but they depend on the number of working hours needed to prepare a store that meets your requirements.
You can commission us with the turnkey store implementation. Then we will coordinate all the works so that you receive an online store that operates and is in line with your expectations in the declared time. This implementation costs more, due to the fact that this option includes additional hours needed to perform all works and their appropriate coordination.
No matter which option you choose, we always recommend using our help during the implementation of an online store. This reduces the risk of costly mistakes, slow or unstable work and will certainly speed up and facilitate the implementation of the store. So far, we have implemented thousands of online stores, so you can certainly rely on our many years of experience.
Our sales analyst will contact each customer. If you have contacted our sales department before ordering, it will usually be the same person who will give you specific guidelines on how to start work. If in the meantime you have any questions, you can always contact our consultant and discuss these matters. Also, if you decided on the implementation package, the Project Manager will supervise the whole project over the next several weeks.
That's all. You should have completed the steps:


ORDER BY WWW


INITIAL PAYMENT


CONTRACT


STARTING THE IMPLEMENTATION PROJECT
---