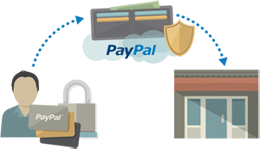 Seller Protection
IdoSell.com guarantees the highest safety standards by cooperating only with well-tested, professional on-line sellers. Our customers gained another powerful tool - PayPal buyers protection.
Most transactions are handled without any troubles, but sometimes something goes wrong, e.g. when you receive an unauthorized payment or a customer reports, that product one ordered, hasn't been delivered. In such cases you can benefit from buyers/sellers protection program. If a buyer paid by PayPal system and your product is protected by program, PayPal - without any additional costs - will refund full transaction amount to the party that was somehow injured.
So the transaction could be qualified, corresponding conditions must be met by both the seller and on-line store system. As a PayPal partner, the IdoSell.com provides you with full technical background. You just need to meet the seller requirements.
Automatic registration of payments based on PayPal.
We have introduced a special tool for automatic booking of money transfers sent by PayPal - Instant Payment Notification. It allows each store operating on the IdoSell.com for even more convenient and fully automated mechanism of accepting payments.
Benefits of using PayPal automatic payment registration:
Saves time – you don't have to perform time-consuming tasks, like checking your bank statements an manually register payments.
Eliminates paper archives – all documents are available in a single place.
Comprehensive financial management – full financial control - allows to immediately find all necessary information.
Minimizes risk of errors – system automatically identifies payments and reports you, when payment amount is too low or too high.
Instant payments - available for all our customers.