How are payments made using Apple devices?
With Apple Pay, the payment process does not transfer the actual payment card number, but its equivalent in the form of a token. Token is a card number converted into its equivalent in the form of a string of characters and numbers. On Apple devices, using Apple Pay always requires confirming the transaction biometric security: either the payer's face identification (Face ID) or fingerprint (Touch ID). If the device, you are making the payment, does not have such security and in addition you do not have an Apple Watch or iPhone connected to it, such payment will not be possible at all.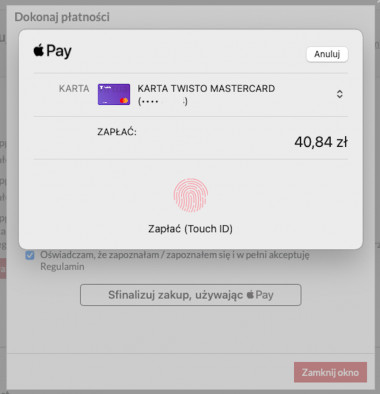 The mere addition of a payment card on an Apple device, causes its data to be routed through Apple's servers to the card's payment organization for tokenization. The resulting token representing the payment card is stored in a very secure location on the compatible Apple device, in a special chip called Secure Element. From then on, apart from the Apple Pay payment process, nothing is able to make unauthorized use of this data.
List of devices supported by Apple Pay:
List of countries supported by Apple Pay:
Why should you launch Apple Pay in your store?
A huge share of mobile devices in browsing and at the same time low conversion (the ratio of visits to completed orders) is due to the fact that the store is not adapted to and it is impossible to complete the payment on such a device.
While in case of lack of adaptation of the website's operation to mobile devices, the only reasonable solution is website redesign, completing payments on a mobile device is possible when the store uses payment methods that have been designed from scratch for this purpose - for Apple device users this is Apple Pay.
If your store is tailored for mobile browsing and your store visitor analytics show traffic from Apple mobile devices, increasing order conversions on your store will be almost certain when you launch and properly promote the ability to pay with Apple Pay.
How do I launch Apple Pay?
If you use card payments supported by IdoSell's built-in stores IdoPay payment system - you already have Apple Pay running automatically and without any store customization or artwork.

If you don't use IdoPay yet - check prices of our services and consider starting it in your store.