Best online selling solutions
Tea, Coffee and Honey from all over the world - a perfect Easter gift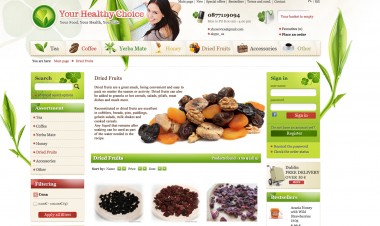 Easter is knocking at the doors. For all those who haven't bought any Easter present so far, we suggest visiting the website of our new customer - Your Healthy Choice.
Your Healthy Choice was created in 2012 for all people who appreciate the delicious taste and healthy ingredients. The online store offers tea and coffee from all over the world and honey from hives in Spain, France, Ireland and Poland.
The online shop operates on Irish market and services both Irish and Polish customers.The online store is popular amongst clients because of high quality of offered products as well as fast but safe delivery solutions. YHC's assortment is very well displayed and the whole ordering process very user-friendly. Customer reviews speak for themselves.
YHC offers the fastest delivery I ever got from online store. Registration process is really easy and there is a plenty of interesting information. I strongly recommend the shop to all connoisseurs and those who are just discovering the wonderful world of fine beverages - comments one of the customers.
YHC online shop operates on IdoSell.com system which allows the shop for selling in two countries, currencies and languages. Moreover, the system allows for easy and individual presentation of shop offer. Thanks to integration with Google Wallet, Nochex and DHL it allows for an effective order handling and ensures fast order fulfillment.
YHC.ie online store offers products from all over the world. The online shop offers also various types of accessories such as tea pots, boxes or tins. Therefore in YHC.ie one can find a perfect gift for Easter.
With YHC you can discover a wide range of honey, tea, coffee, dried fruits and definitely you won't get bored with our accessories. You can create your personalized gift set and which will be wrapped nicely specially for you. It is a shop runwith imagination and passion - adds Jaroslaw Mrowinski, the owner of YHC.