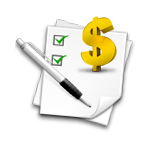 IAI SCANNER PRICELIST
| | |
| --- | --- |
| First 30 days | free |
| Each consecutive moth of subscription | 58 USD net |
The license includes support and free updates when a subscription is active.
Method of IAI SCANNER cost calculation
Launching IAI SCANNER triggers the activation of one subscription for 30 free days. If you do not resign from the subscription within 30 days we will start charging you with the monthly cost of the subscription. If you do not deactivate the subscription it will continue generating additional costs until it is deactivated. A separate subscription is required for each IAI SCANNER instance. If you want to use many devices at the same time, you need to purchase as many subscriptions as the number of devices used. This also applies to the mobile version and PC version. To use both application versions at the same time, you need to purchase two subscriptions.
The IAI SCANNER application subscription is granted for a month and allows one to assign the same key to a different device every 24 hours.
After the application is connected with a subscription with no right to another test period, the fee for subscription is charged automatically, proportionally till the end of an ongoing month.
You can quit subscription any time you want
You can add another subscription or quit using the ongoing one any time. License cost will be calculated proportionally until the end of the month, in which you decided to resign. From the following month we will not charge you with the subscription unless you add it again and start using the application again.
You can manage your subscriptions in the Administration Panel, under "SUPPORTING APPLICATIONS / IAI SCANNER"
For more information about prices for IAI SCANNER subscription, see the detailed IdoSell price list.
Test IAI SCANNER for 30 days for free
If you want to test IAI DOWNLOADER just download it from the Administration Panel under "SUPPORTING APPLICATIONS / IAI SCANNER" and connect it with your panel.
First 30 days of using IAI SCANNER is the fully functional test version. Thanks to this option you can verify the performance of the application. You can check, if the program is compatible with your devices and, if it is not, you will be able to inform us about it. We will do our best to tailor the program to your needs.
If you already have an active license key, working according to the old way of licensing, after it is finished you will be covered with the free test period. It means that if you have used the license for a year and your key has expired you are granted with the right to use the free 30-day test period.
Test version is free for 30 days from the first connection with the application with the Administration Panel. The subscription includes support and free updates.