Quality mark (Seal of Approval), Buyer Protection and customer reviews help to increase the clients trust in your shop and can raise the conversion rate by more than 40%!
The IAI Company - as a developer of software to run on-line shops - would like to help you on your way to success and cooperates with the key e-Commerce partners. Trusted Shops is surely such a key company, an European leader in providing quality marks. Almost 10 000 of on-line shops utilizes services offered by the Trusted Shops.
The IdoSell.com is the first system in Poland, which is perfectly prepared for the Trusted Shops certification system. Your benefit is: you will receive the Trusted Shops packages in promotional prices and you will be able to quickly implement in your shop: Seal of Approval and Buyer Protection, and the Customer Reviews module. Make use of this unique chance and just order the package of the Trusted Shops services on promotional conditions.
More trust - better sales results!
Trusted Shops is a leader in providing quality marks for the on-line stores and it enjoys big trust of customers. The more users trust in in your on-line store, the quicker and more eagerly they will shop. With the Trusted Shops you can increase the conversion and sale rate. The Quality brand ensures that the page is compliant with more than 100 quality criteria checked by Trusted Shops, that build trust and credibility, which of course affects the use of whisper-marketing strategy.
What can you gain thanks to the Trusted Shops Quality Seal of Approval?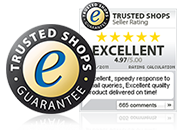 Seal of Approval with Buyer Protection and Customer Reviews
Trusted Shops is the well-known internet Seal of Approval for online shops which also offers customers a Buyer Protection. During the audit, your online shop is subjected to extensive and thorough tests. This audit, consisting of over 100 individual criteria, is based on the requirements of consumer protection, national and European legislation.
More trust leads to more sales!
The Trusted Shops Seal of Approval is the optimal way to increase the trust of your online customers. Trust increases customers' willingness to buy from you.
Less abandoned purchases
Give your online customers a strong reason to buy proposing the Trusted Shops Buyer Protection. This additional security leads to less shopping basket abandonment.
Your Customers become Sellers
Use our retailer evaluation with integrated customer opinions as an important marketing tool to increase the trust of your customers. Display your positive evaluation at Google Shopping and increase your traffic.

More information on the Trusted Shops services can be obtained at the www.trustedshops.com webpage.