PayPal is a global leader of on-line payments and handles 7,5 million transactions daily. More than 128 million active users thinks, that PayPal is the most comfortable method of paying for purchased goods in the Internet. This is why we fully support it from the very beginnings of the IdoSell.com. But now IAI and PayPal have become official partners. Thanks to affiliate agreement signed, our customers and partners can benefit from our partnership, including the brand new buyers protection program and great financial conditions.
Key features of PayPal services:
Convenience - sending money to any person (if that person has an e-mail address) requires just a few clicks. You can accept payments 24/7, all around the world.
Safety - fraud prevention solutions offered by PayPal are reliable and well-tested. PayPal offers one of the best abuse-protection systems and brand new buyers protection.
Fast transfers - payments are registered immediately.
Ease of use – payments with just three mouse clicks.
Higher conversion rate - payments with credit card without even registering an account in PayPal.
International sales increase – sales in 19 currencies in 193 countries.
Freedom of choice – payment methods selection - credit card or PayPal account fed from bank account.
Confidentiality - PayPal does not reveal financial data of purchasers and sellers.
Worldwide range - PayPal transfers are accepted worldwide - send Your money locally or internationally.
Profitability - sending money is free.
Mobile optimization - payments made with smartphones and tablets.
Payment automation - effective, comfortable and fully automated payment confirmation mechanism.
Cash back management – rapid refund of payment to a customer in case of a return or resignation from an order.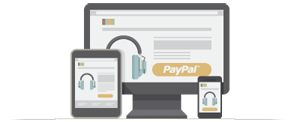 Why does PayPal stand out from the crowd of other on-line payment systems so much?
Your customer's personal details remain completely anonymous.
PayPal is free for buyers.
System cooperates with electronic mail providers and intercepts suspicious e-mails from cyber-criminals before they even reach recipients.
PayPal allows to transfer money to an... e-mail.
You may also find following links interesting:
PayPal in the IdoSell.com
How to register a PayPal account and launch payments.