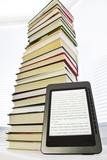 "My files" tab on the customer's account is divided into two categories:
In this section, customers can access the files purchased which have not yet reached their download limit. If there are more formats or songs from a one CD available, customers can download the items one by one. If you bundle up the items the file can also be downloaded from this section.
Files not available for download
Here your customers can find items which have reached their limit of downloads or the ones that have exceeded their download time frames.