Some may think that developing businesses must base their ecommerce operations on custom built, open source solutions such as Magento. Our numerous, successful IdoSell implementations for rapidly growing businesses and some of the biggest national brands tell a different story. Today we would like to present an inspirational case study of one of our clients - zFABRYKI.PL - who started out with a Magento store, and now leads a successful, profitable business based on IdoSell. Switching platforms allowed them to finally attain the end results they initially planned for, both graphics and functionality wise.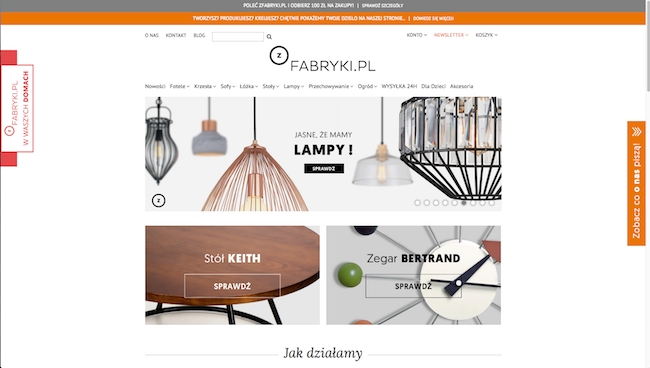 Wojciech Zygmuntowski from zFABRYKI.PL says the most important elements of an ecommerce platform for a large business are: a stable system, secure integrations with payment processors, delivery services, precisely catalogued product database and an automated warehouse management system. After their failed Magento store launch, zFABRYKI pivoted and focused on launching their new store using proven, stable SaaS solutions, despite the common misconception that SaaS does not allow for implementing sophisticated, custom ideas. The facts are in - zFABRYKI launched their new store at a fraction of the cost and time required for a bespoke, open source solution, and they are now growing rapidly with IdoSell.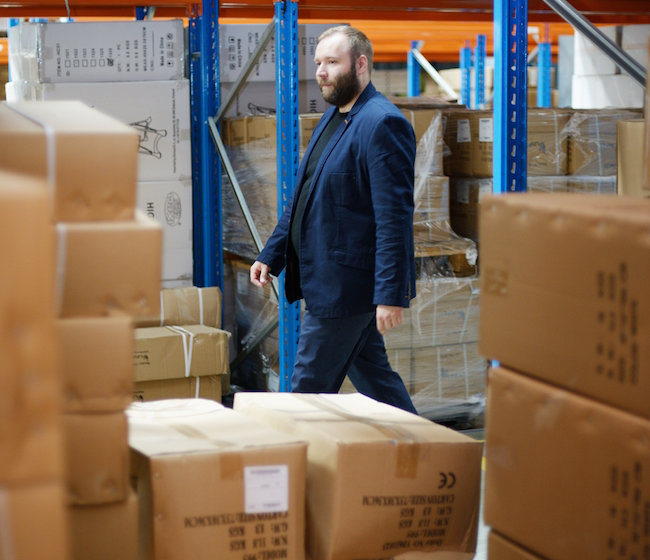 "The zFABRYKI.PL ecommerce project, based on IdoSell, can be described as a phoenix rising from the ashes. Ashes full of countless "all-encompassing" plugins and custom built addons thrown into a Magento-based platform. Initially, we assumed that Magento, being open source, would be the perfect tool for our ambitious requirements for building custom solutions for our customers, e.g. in the way our product offer is displayed, how customers can configure their orders, etc. - we did not even take "closed" SaaS solutions into account. At first everything looked great, unfortunately, and to our disappointment, only in theory. What we initially thought to be the greatest advantage of Magento, turned out to be the cause for most of our problems. The sheer number of custom built addons and modifications to the base structure of the online store, the order handling process and the products database quickly rendered our precious zFABRYKI.pl project unstable and unusable, eventually leading to a total collapse of the online store." - says Wojciech Zygmuntowski - Usability Manager at zFABRYKI.pl, fajneceny.pl and other ecommerce projects.
zFABRYKI.PL sells furniture products directly from production lines. "This is a truly dynamic project, involving both large and small manufacturers and furniture designers. We aim not to restrict ourselves with unnecessary red tape when it comes to cooperation agreements and we are open to new opportunities, both international and, what is probably more important, domestic - as we like to support local markets." - says Wojciech. The diagram below shows how zFABRYKI.PL manages to lower products prices, by cutting out the middle man. They also put extra focus on presenting product prices and delivery times clearly, so that customers can be confident they are making the right choice.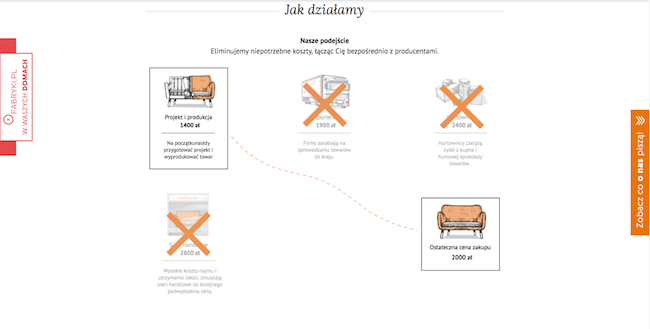 All product details pages contain comprehensive product descriptions. Customers can choose colours for various product sets and fabric variations. Also displayed is a detailed countdown to shipment from the moment of placing an order. A great marketing strategy, which includes building rich company background and story, causes the store to gain in popularity day by day. The core business message, that helps ensure customers about the high product quality and excellent customer service can also be found on the company's social media profiles: As you know, perfection requires precision - and precision requires time. Therefore the highest quality products sometimes require a bit of waiting. Such open statements are a great way of informing customers, that products are worth waiting for. Such synergy of great product and customer service quality, with an open marketing strategy resulted in zFABRYKI.PL quickly gaining over 12 thousand social media followers, and the number is still growing.
ZFABRYKI.PL is a great example of how to fully utilise the IdoSell ecommerce platform. "There are many aspects as to why we deem choosing IdoSell as our platform a great choice - simply put, it is a system that quickly answered all our requirements and vision for how an online store should be run. All our design ideas were implemented just the way we envisioned them. We would like to pass our special thanks to the IdoSell designers, especially Dorota, who led our project and with whom I exchanged hundreds of productive tickets - all our requirements and specifications were handled in a professional manner, and resulted in the current online store frontend, which we are very satisfied with." - says Wojciech Zygmuntowski. It is worth adding, that every IdoSell client has a designated graphical consultant they can discuss their ideas and requirements with, over the entire lifetime on the platform. Clients can also prepare their own designs and submit them to be implemented by IdoSell developers, as part of a turnkey shop implementation.
IdoSell: You said that IdoSell allowed you to catalogue your products and the underlying logistics processes met your requirements for an online store. What was your initial vision, what did you manage to solve with Magento, and what improvements did you experience by migrating platforms?
Wojciech Zygmuntowski, zFABRYKI.PL: There were many improvements. A good one to point out is the way we are able to display different colour variations, which is hugely important for our products. We did this by implementing circles on the product details page, and solved it by utilising product sizes. Another important function is how we can control and display different "product shipping in ..." timers for products. Our products are manufactured on demand and we needed an efficient way of managing these elements. In the backend, we utilise the "time required to import goods from a supplier" option and in individual cases, an additional product parameter to achieve just that. A big IdoSell advantage is the ability to create product series. We are looking to utilise this function even more in the future, to better control how, where and when products are displayed on the website, which will make for an even richer user experience.
IdoSell: Customer service is an important aspect for every store, but especially in the furniture business. You created a very interesting system of rewarding your customers, can you tell us more about it?
Wojciech Zygmuntowski, zFABRYKI.PL: It is quite simple - direct rewards for performing specific actions. Recommend us: +100 PLN, sign up to the newsletter: +50 PLN, add a picture: +50 PLN. We aim to involve and reward our clients at all stages of their journey with our store - before and after placing an order. On the technical side of things, we utilise discount codes our customers receive via email after after taking part in a promotion. The "Newsletter +50 PLN" promotion motivates new and potential customers to sign up in order to receive 50 PLN for their first purchase - this is a very popular and widely used promotion.
The "Recommend us +100 PLN" and "Add picture +50 PLN" promotions are aimed at existing customers, allow us to build positive relations with them and generate repeat purchases. Customers feel that they are cared about, by having access to promotions after having placed an initial order.
With "Recommend us +100 PLN", we reward customers who want to recommend our store to family and friends, by discounting their next order by 100 PLN. "Add picture +50 PLN" is aimed at active and creative customers, who are open to sharing their story of purchasing furniture from zFABRYKI.PL by submitting pictures of their interiors.