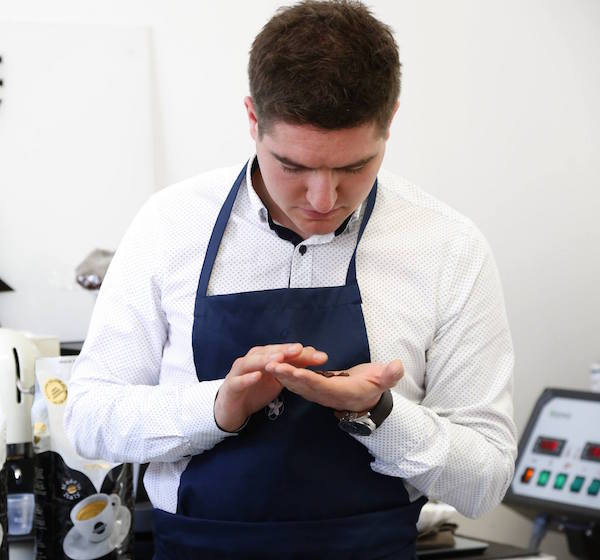 Over the past three years, Konesso.pl became one of the leading online coffee stores in Poland, with tens of thousands of customers praising their product quality and service. Coffee connoisseurs may also enjoy a hot cup in person, in one of Konesso's brick-and-mortar shops. How do they manage all this? Have a look at our case study and a short interview with Grzegorz Bienko - Konesso's owner.
Konesso is a perfect example of how to successfully implement an omnichannel retailing strategy with the use of tools and integrations available in the IdoSell Shop ecosystem. The store makes use of IAI POS, our dedicated point of sale solution, at their traditional stores, which helps them keep orders and stock levels in sync with their online shops. In order to handle such a large number of daily orders efficiently, they also make use of IAI Scanner to automate shipping processes. The effects are clearly visible - Konesso received the highest marks for professional online sales service in the food category, awarded by Opineo, the biggest customer review aggregator, for the third year running.
"Back in 2011, we decided on a cloud based ecommerce solution, because it allowed us to lower the initial investment and get to the market quicker than by building a dedicated system from scratch. When looking for the right ecommerce platform, we needed to be sure it would not hinder our business growth. After evaluating a number of systems, we firmly decided on IdoSell Shop, as it offered the most comprehensive features and came with the support from experienced ecommerce consultants.
Now, after over 5 years, we are convinced it was the right choice. IdoSell Shop keeps being improved with new features and solutions designed to help store owners like us with their day-to-day processes. To be honest, almost all of our business processes are now handled on a single platform" - says Grzegorz Bienko, owner of Konesso.pl Konesso.pl
IdoSell Shop: Does working with big coffee brands positively influence your income? Or is your success based solely on your unique marketing and sales approach?
Grzegorz Bienko, Konesso.pl: Selling popular coffee brands definitely helps with growing our business. They increase traffic on our site, as they are often sought after by consumers. Even so, we don't just sell a brand because it is big - we always make sure to check the product quality. Let me also point out that we do not always recommend the biggest brands, as sometimes you can find the quality lacking :)
Smaller, boutique coffee roasting businesses can, and often do offer blends of class much higher than even the most known brands. A huge number of customers, whom we managed to convince to try new coffees and change their usual coffee drinking habits, comes back and thank us for our recommendations. We promote and recommend coffees from small Italian coffee roasting businesses, as we can be sure of their unchanging high quality, which cannot be guaranteed by bigger distributors.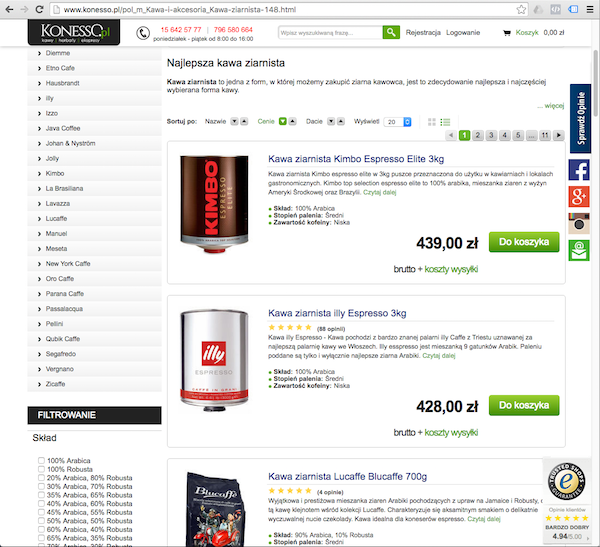 No product will sell on its own, though, you still need traffic on your site and an appropriate sales & marketing strategy. Our most interesting products are presented practically everywhere a potential customer can be. A well optimized online store is very important, as one of the biggest drivers for sales is a long tail keyword positioning. Ever since our store's inception we put extra effort to manage our brand visibility in search engines. Now, practically all of our products are on the first page of organic search results for specific phrases. We also utilize Google AdWords to present the most popular products and general promotions. Another important tool from Google's arsenal is Google Shopping which helps us better index our offer in search results.
Apart from traditional SEM tools, we also make use of different strategies to help us build customer loyalty, such as listing on price comparison sites, sending newsletters, running affiliate programs, publishing on social media or working together with the blogosphere. I won't list everything here as the topic is enormous. Together with our marketing department we take care to constantly adjust our strategies and track trends in order to remain at the head of the ecommerce market. It has worked out well thus far :)
IdoSell Shop: You were listed at the top as the best online store in the food category by Opineo, and for a third year in a row. Impressive? How did you achieve this?
Grzegorz Bieńko, Konesso.pl: We are very proud of our place in the Opineo ranking. Our store - Konesso.pl is not a typical coffee "supermarket" where you could only buy instant coffees, 3 in 1 cappuccinos, or low quality coffee grounds. We are a specialist shop where only products personally tested by us are sold. Even the lower quality coffees we sell can be compared to the most premium brands available off the shelf elsewhere. I think a careful selection of products to sell is key to success.
Practically every single process in our store, related to creating the offer, processing sales and shipments, or customer service, forms part of its success in way or another. It is probably impossible to single out a specific factor - our success is an aggregation of many.
I can say one thing for sure - we need to constantly optimize order handling processes in order to keep up with the growing demand and avoid potential errors, for example with shipping incorrect order contents. IAI Scanner was of a great help when we restructured our warehouse operations and helped us eliminate mistakes, which unfortunately happened before.
IdoSell Shop: You opened your first high street coffee shop and traditional store at the beginning of 2015. What was your customers' reaction? How do you manage both offline and online sales?
Grzegorz Bieńko, Konesso.pl: Our coffee shop is right next to the store where you can buy most products that are served there. We cannot physically keep everything in our traditional store, but our full offer is available online. The online store is where our customers can purchase any product they are interested in. We enabled personal collections that are available within 24 hours of placing an order, which received a lot of approval. Our customers like to be able to take their time when deciding what to purchase and do it online. Rich products descriptions and helpful articles which we publish on our site help a lot in that matter. We manage sales in our traditional store with IAI POS which works great and we recommend it to any online store planning to branch out to the high street.
IdoSell Shop: Why a coffee shop?
Grzegorz Bieńko, Konesso.pl: Actually, the idea first came from our customers, who saw our knowledge and passion for coffee and pointed out there is no spot to go to and drink a great cup of coffee in our local town.
It was a big challenge, as none of us had any experience running a restaurant-type business before. Our doubts were quickly cleared up when after three months from opening, our coffee shop became the most popular in the city and even our competitors started signing up for our training sessions. The latter came as a surprise to us, as we did try to convince them in the past with no real results. KONESSOcafe is a great spot, which we use to educate our customers, we organize workshops and training sessions which are also published online.
IAI-Shop.com: It seems like you do much more than simply sell coffee... you educate people on how to be passionate about it
Grzegorz Bieńko, Konesso.pl: Correct. Most of us cannot imagine starting a day without a cup of coffee, right? A lot of people drink coffee only to wake up. Quite often they don't even like the coffee they drink, but the well known need for caffeine makes them forget that it does not have to be this way. Making a cup of coffee is simple enough, but in order to make a good cup of coffee you need to know about the basic elements influencing its taste.
Our homes and offices are often equipped with coffee making machines, where all you have to do is pour in water, add some coffee and press a button. Simple. So, you have a coffee machine, you buy a good blend (that costs quite a bit), open the package only to be greeted by this beautiful smell, get it ready, go in for the first sip, and... it tastes horrible! You've never had worse! What do you do then? Well, most people throw away the coffee, or gift it to someone else (maybe they will like it) - but one thing is sure - they will never make another cup. This is the basic mistake.
Most people who do this are not aware of the basic elements and greatly influence the taste of a cup of coffee: water, coffee grinding fineness, cup volume, temperature, coffee machine conservation and cleanliness. When they tweak certain parameters, add a water filter, etc., they quickly realize that the expensive blend they tasted awful before, is now the greatest coffee they've ever had. It could also be the case that they simply picked the wrong preparation method for the type of coffee grounds they bought - different types of coffees are good for different coffee makers, like drip, aeropress or chemex.
So, in addition to selling coffee we educate our customers how to make the most delicious cups, and choose the right ingredients. We emphasize that expensive coffee and a 5 thousand euro coffee maker is not everything that's needed to achieve great taste. You also need to take care of certain other elements, which we discuss and describe on our blog and YouTube channel.