Easily manage listings by editing profiles
Using offer profiles in IdoSell you can easily update thousands of listings on Allegro and eBay. All you have to do is indicate which options you want to update on ongoing auctions after the change. The system save the information about the changes and sends them to the service. Complex updates are performed during reduced load in order not to affect the most important processes. Thanks to that, priority order downloads, price or quantity changes will always be executed smoothly and with appropriate frequency.
Using the offer profile you will update :
For Allegro and eBay:
Title
Template
Promotion options
Resume
Shipping and payment details
Pictures
Duration
Delivery profile
Fulfillment from warehouse
Default quantity
Mark auctions for closing due to minimum balance.
Price (when the dedicated automatics is on)
Quantity (with the dedicated automaton on)
Shipment time (with dedicated automation enabled)
Dedicated to Allegro:
Size tables
Delivery price list
Returns policy
Guarantee information
Number of additional images - when updating the template
Dedicated to eBay:
subtitle
Commodity code submitted to the site
Return policy
How to use?
This option is available to enable from the Auction Setup Profiles, which can be found in the Sales / Online Auctions / Auction Setup Profiles menu. At the bottom you will find a list of options available for selection.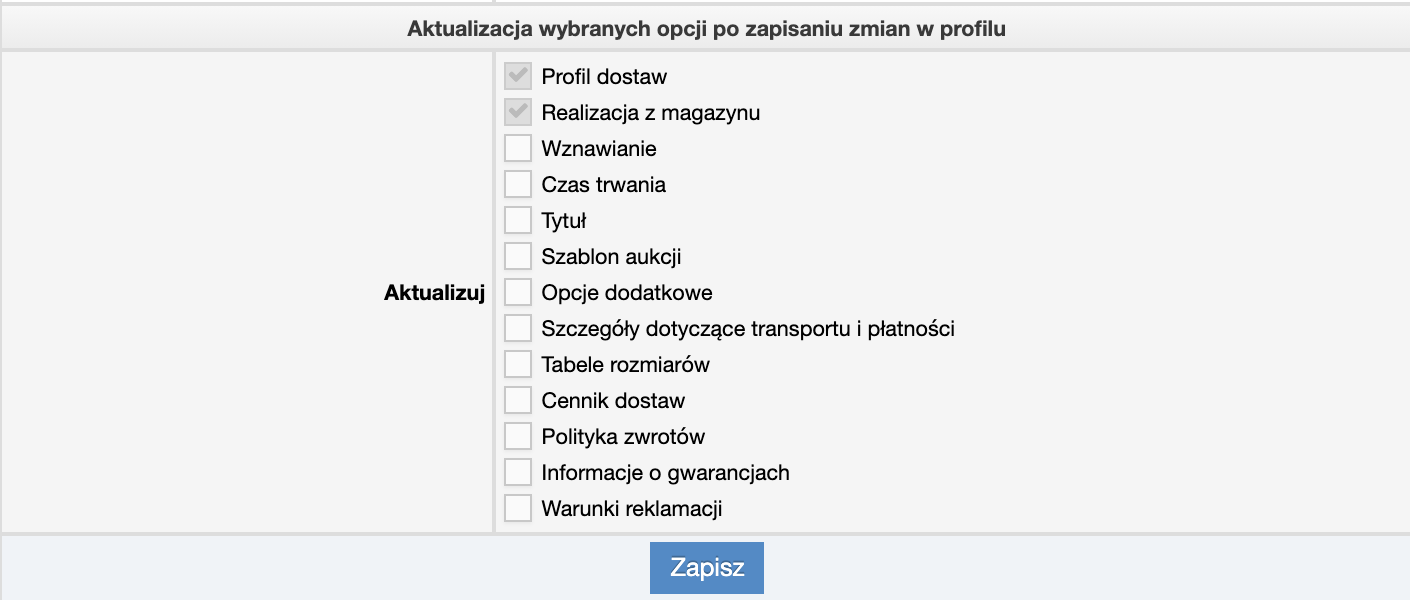 When the selected option is selected, subsequent changes made to profiles will be passed to the external service. The most loaded changes are made at the time of the least load on the servers in order not to affect the updating of stocks, quantities or prices, which are the priority.
Priority and fully automatic update every 10 minutes is available for the most important functionalities:
Price update
Quantity update
Shipment time update
Each of them requires enabling a dedicated automation responsible for them. The list of automations available to enable can be found in the Sales / Online Auctions / Auto Process Settings for Auction Services menu