Ready to use dropshipping store
In IdoSell Shop we focus on the automation of repetitive activities and simplify the complex process of forwarding dropshipping orders to wholesalers. In our solution orders can be automatically uploaded to the warehouse without your participation.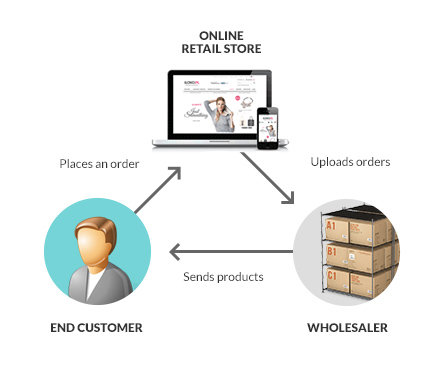 With every online IdoSell shop, you can easily transfer your order to a whosale system using IdoSell Shop, or any other supporting
CustomerAPI dedicated to dropshipping
.
Orders handled by wholesalers can be transferred in two modes:
in manual mode - within 1 click - for those who like to have everything under control
fully automated - for those who value convenience
We will simply upload the orders of your customers to the warehouse system. You do not have to call anywhere, send emails or "make" orders in a separate warehouse system.
Online store adapted for dropshipping sales
The entire process of transferring orders to wholesalers has been maximally simplified, and as many elements as possible have been automated, so that you can focus on promoting the store and assortment, reducing to a minimum the order handling time.
Sample order handling process:

customer places an order in online store


after customer pays for the order, you can transfer it to the supplier's system (warehouse) - this task can be automated!


from now on, the warehouse deals with handling orders


when the warehouse sends an order to your client, the store will receive an automatic notification which will set up the tracking number in the store order, enabling it to be tracked


automatic notification from the warehouse can even change the order status to "sent" in your shop. Thanks to that, the order will disappear from the list of unhandled orders
How to prepare an online store for handling dropshipping orders?
The configuration of the administration panel for dropshipping is basically done within a few clicks. Information on how to configure the administration panel can be found at: How to enable dropshipping in the online store