Best online selling solutions
IdoSell Shop wins the 2016 Ekomers for the best ecommerce platform, Paweł Fornalski wins the 2016 Super Ekomers for the personality of the year.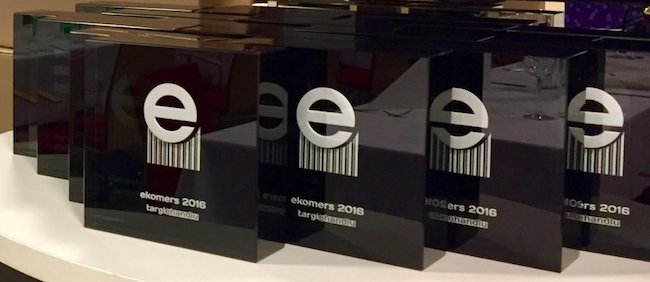 Drugi raz z rzędu zdobyliśmy Ekomersa dla "Najlepszej Platformy Sklepowej" w Polsce. To potwierdzenie, że to co robimy - robimy dobrze. Paweł Fornalski CEO i Founder otrzymał Super Ekomersa 2016 za wkład w polski e-commerce jako osobowość roku. "Zostałem osobowością roku o szczególnym wkładzie do polskiego ecommerce. Czyli nagroda specjalna, zaskoczenie. Nic tylko, pozostaje mi zasuwać dalej i dalej." - pisze prezes IAI S.A. Nagroda dla Pawła Fornalskiego to docenienie jego wkładu w budowanie i edukowanie rynku, który w Polsce bardzo silnie się rozwija.
Dziękujemy!
Bardzo dziękujemy wszystkim klientom, którzy oddali swój głos na IAI-Shop.com. Ta nagroda jest w duże mierze dedykowana Wam. Dzięki rozmowom możemy razem rozwijać najlepszą platformę sklepową w Polsce. Dziękujemy również wszystkim partnerom, współpracownikom i pracownikom IAI S.A. IAI-Shop.com i IdoSell Booking za wkład w rozwój naszej firmy. To prestiżowa nagroda i kolejny dowód na innowacyjność usług Spółki i dobry ich odbiór na rynku.
Ekomers 2016
Po raz drugi z rzędu zdobyliśmy nagrodę dla najlepszej platformy sklepowej w Polsce. W konkursie brali udział internauci, którzy głosowali na swoich faworytów. Firmy, które zdobyły największą ilość głosów przechodziły do etapu, w którym niezależne Jury (w tym roku kapituła Jury liczyła ponad 100 osób) zadawało szczegółowe pytania.
"To potwierdzenie, że my i sklepy naszych klientów rozwijamy się szybciej niż rynek. Istotne jest, że to druga z rzędu nagroda, także nie możemy mówić o przypadku, tylko o systematyczności i trendzie. To dobrze rokuje na przyszłość dla wszystkich naszych klientów, pracowników, inwestorów i partnerów." - dodaje Sebastian Muliński, Founder i COO IAI S.A.
Jak dołączyć do IAI-Shop.com?
Wszystkich zainteresowanych prowadzeniem profesjonalnej sprzedaży w Internecie zapraszamy do kontaktu. Nasi specjaliści przedstawią najlepsze rozwiązanie dla Państwa sklepu internetowego. Zapraszamy!