Best online selling solutions
Changes to IdoSell POS. Find out how they will improve your sales
In order to effectively manage sales across multiple locations, you need robust tools and thoughtful logistics. With IdoSell POS, entrepreneurs can conveniently and very effectively run an online and stationary store simultaneously. The application not only allows for efficient sales at stationary points, but also has advanced omnichannel features that help combine online and offline business. Its biggest advantages are simplicity, intuitiveness and effective and efficient operation.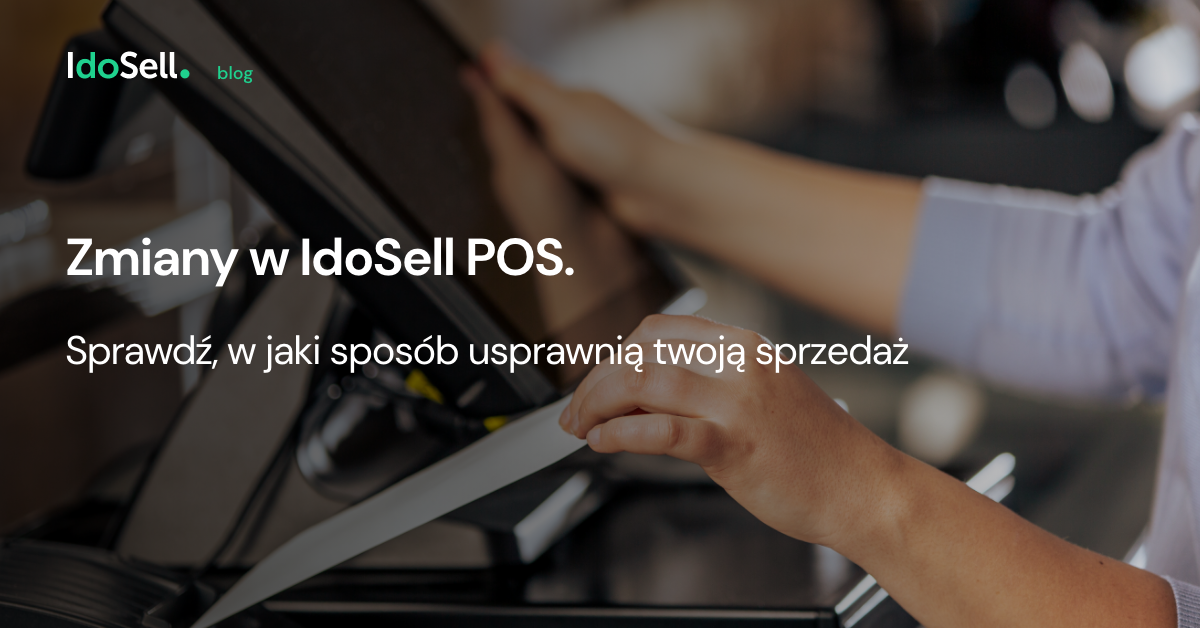 Now IdoSell POS has been enhanced with new functionalities that will make the combination of stationary and online sales even more effective. Here are the novelties we added to the application:'
The ability to sell goods that do not add up. Thanks to this, we support the scenario of selling the same goods at different prices, e.g. the second same goods for half price.
Support for photo format with .webp extension - displaying photos and icons in the application.
Functionality that allows you to conduct sales with separate numbering for each point of sale, where each of them can have different data for printing on VAT invoices.
Additionally:
Cyclic synchronization extended with functions that check the list of deleted goods in the IdoSell panel and update the list of goods in IdoSell POS.
Automation of the logic of downloading prices from the store (taking into account retail prices, prices for POS and if the customer is a wholesaler, wholesale prices).
Unification of the date on documents when working on multiple IdoSell POS stations.
The application has passed a number of tests. After successful authorization, we received a certificate from Fiserv ( formerly FirstData ), confirming the security of IdoSell POS integration with payment terminals operated by the Fiserv payment agent.
All the changes we have now made are primarily to improve sales and warehouse logistics.
IdoSell POS is constantly being updated and supplemented with new facilities. The most recent modifications concerned the integration of the application with payment terminals. Thanks to them, customers who use the application are able to handle payments directly from IdoSell POS Cashier.
Why use IdoSell POS?
IdoSell POS helps build omnichannel, or multi-channel sales in a combination of online and stationary commerce. It is worth investing in this strategy, as it is guided by the idea of free movement of customers between sales channels, so they can buy at their convenience. The popularity of omnichannel is confirmed, among other things, by data collected by the Chamber of Electronic Commerce in its report "Omni-commerce, I buy conveniently." In 2022, as many as 63 percent of respondents said that information about a product they find online encourages them to visit a physical store. On the other hand, information that a brand is available in multiple sales channels will encourage 87 percent of respondents to buy.
The IdoSell POS application first and foremost gives you control over inventory and the entire business ecosystem. It also allows you to efficiently operate retail outlets and build an effective strategy omnichannel.
When a business operates in a clique of channels, it needs to have perfectly synchronized information on how many products have sold in a specific location (online store, stationary store or marketplace). A centralized reservation management system avoids multiple sales of the same item at different locations.
The challenge in omnichannel, which assumes consistency of offerings in the online and stationary store, is logistics. Brands that use this model usually have more than a few stationary stores as well as warehouses and e-commerce. Sometimes customers want to buy a couple of products at once, and each of them is located at a different point. Such situations require good organization and sensible inventory management, but omnichannel with well-synchronized logistics offers great opportunities. And this is where IdoSell POS helps, allowing you to handle returns, manage prices or unify sales campaigns from a single system.
IdoSell POS'
This application from IdoSell is an application that customers can install on their computer or on the corresponding POS terminal. It is used for point-of-sale POS cashiering. It works with barcode readers and a fiscal printer. The POS is also integrated with the inventory management of the online store in the IdoSell store system. The application synchronizes the inventory of the stationary store and the online store based on sales and other warehouse operations carried out. IdoSell POS does not need to be connected to the Internet all the time. When a break in connectivity happens, the system will work normally - after reconnecting to the network, it will transmit all performed operations to the administration panel.