If your business is based around designing, implementing or maintaining online stores, partnering with IdoSell Shop gives you unlimited possibilities
IdoSell Shop capabilities let you offer the widest range of services to your clients, such as implementing custom, dedicated modules based around our open API, or designing and implementing the look and feel of a store with Smarty templates. All the while you reap the benefits of the IdoSell Partner Program. Sounds interesting?
IdoSell Shop – Open System as a Service™
IdoSell Shop is a modular, well documented online platform for professional merchants. Implementing new functionality, or expanding existing features does not require any direct modifications to the underlying server side source code, which helps ensure stability and integrity of the system. You can choose specifically which part of the system to implement changes in and do so using dedicated tools and open interfaces. Such Open System as a Service™ approach helps creative agencies reduce workload which would otherwise be required for maintaining the hardware infrastructure, customer support, updating core functionality, all of which are handled by IdoSell Shop experts.
Launching an online store based on open source technologies can be challenging and often very expensive, with delivery lasting many months. IdoSell Shop is a service offered on the basis of a flexible monthly fee, and new stores can be launched in minutes.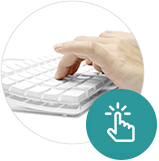 As a partner you will be able to hone the relationship with your clients on many levels. You will not only receive one off bounties for referring new clients to our services, but also lifetime commission on any payments they make. If you opt to provide dedicated services for a client you will be able to access their administration panels via your dedicated partner account.
To sum up – why you should choose to become an IdoSell Shop partner:
Passive income for your business
Long term relationship with clients
No need to worry about system updates and maintenance
We take care of the hardware infrastructure
You can focus on marketing and optimizing your core business activities
What are the advantages for shop owners?