IdoSell Shop subscription plans
Each subscription plan includes the full system functionality. Our fees consist of two elements: one-time installation fee, charged for the preparation of the shop, and a monthly subscription fee for its maintenance.
How much does an online store in IdoSell Shop cost
In IdoSell Shop you always have a choice. You can launch the shop almost immediately without incurring additional costs. At any time, you can decide to build / redesign an online store within hours settled in Time & material mode or choose one of the available implementation packages. No matter which variant you choose, as part of your monthly subscription, you receive exactly the same IdoSell Shop service, with a full range of functionalities. Remember that we are at your disposal through the entire duration of the contract. At any time you can improve the store yourself, or commission to us additional works . Thanks to the unlimited technical support, you will be under the constant care of the best e-commerce specialists, ready to support you as soon as any doubts arise.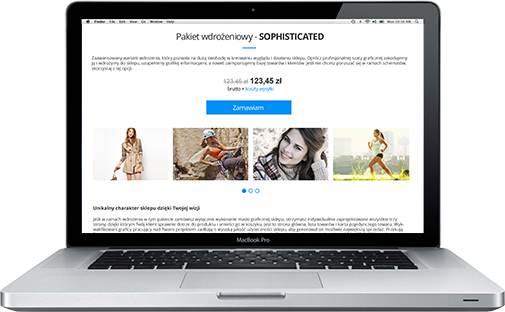 Online store implementation
The IdoSell Shop offer includes several predefined implementation packages designed for sellers with different requirements regarding graphics and functionality, expectations regarding implementation time and budgets for launching an online store. For example, we offer totally personalized implementations to demanding customers who expect an individual approach. However, thanks to STANDARD templates, you can launch an online store virtually immediately without any additional graphics fees. Each implementation package can be extended with turnkey implementation in which we will carry out all the necessary work for you (panel settings, configurations) that will speed up the launch of the online store. A dedicated Project Manager watches over the on-time store implementation and is responsible for coordinating all work (both related to store's template and turnkey configuration) from the moment of the initiation of the implementation to the launch of the store for buyers. If the time of implementation is crucial for you, you can ask us about the possibility of ordering services in Express mode.
Find out more about how to implement an online store
Maintenance of an online store
Regardless of the subscription plan you choose, as part of your monthly subscription, you get exactly the same system, with full range of functionalities. At IdoSell Shop you can choose 1 of 3 types of subscription plans. What is important, when you start to grow dynamically and your current plan is insufficient, you can freely change the subscription plan to the one that meets the needs of your store.
Within each subscription plan you get:
the full version of the system,
daily, automatic administration panel updates to the newest version without additional charges – your shop will always be up-to-date,
support of the best specialists who are watching over your business development and you do not have to focus on technical issues
IAI Broker service thanks to which you can send parcels cheaply without signing an additional contract
IAI Pay system servicing all Polish banks. Installments with commission starting from 1.2%
no additional fees SSL certificate , available for each of your domains
E-mail marketing Pro service thanks to which you will create advertising campaigns for clients
4 types of subscription plans