News
The news module enables conveying fresh information about important changes and news in the store to your potential customers. You can use it to e.g. inform about introducing a new collection to your offer, starting a special offer campaign, or a seasonal discount. You can also inform your customers about upcoming holiday breaks or unexpected delays in the order handling process. Good communication is crucial for gaining customer trust, and can directly increase sales.
News can be added in the administration panel through, where you can also modify the content or adding pictures. It also enables flexible adjustment of news visibility, i.e. you can decide when and on which pages the news will be visible.
News have a separate section in your online store which contains a list of all entries. Each news story can be displayed on its own page with full contents. What is more, chosen news are presented in a special zone on the main page, as well as in the side bars on the remaining pages.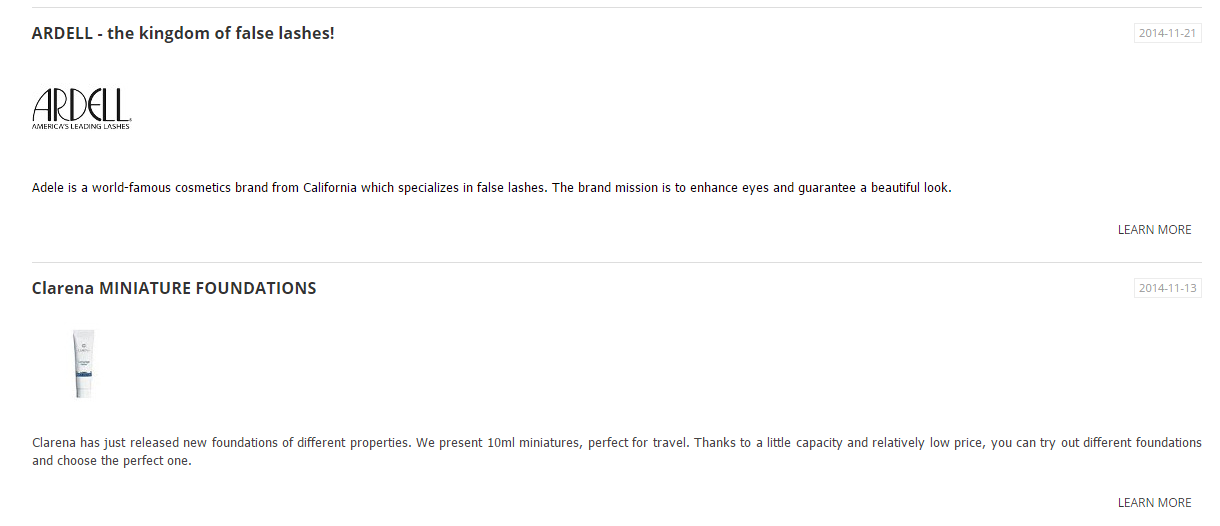 Blog
Blog in IdoSell shops is a module presenting content concerning your sales in an attractive way. It is a great place for presenting e.g. information from business fairs, guides for professionals or laypeople, as well as product opinions.
As in the case of news, a blog has its own page with the list of entries and a page for presenting the content including links to entry categories or entries calendar. Chosen entries are presented in a special zone on the main page.