Price displayed in many currencies
Product price is one of the most important bits of information in an online shop. It should be displayed in a clear way regardless of currency. As an IdoSell store owner, you can freely adjust currencies, exchange rates and the way they are presented to customers, which not only increases the potential for international sales but gives you a lot of control over your prices.
It is a perfect solution for shop owners who want to conquer foreign markets. Currencies and prices are displayed in a correct format without the need for changing administration panel settings each time you want to make a new currency available. You also have a choice of either running multiple shops in a single administration panel, with separate currencies, or enable multiple currencies for a single shop.
You have a choice of a lot of options when configuring how prices in a given currency are displayed, for example:

position of a currency symbol (on the left or on the right)
space or no space between the currency symbol and the price
thousand and million separator
decimal separator type
How to configure available currencies and set exchange rates?
If you sell internationally, especially when its in multiple languages, a properly translated shop is not the only thing you need to remember about. Accurate configuration of currencies is essential.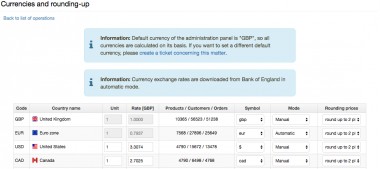 There is a dedicated area for currency management in your administration panel. There you will be able to configure which currencies are available in your store, set the exchange rate and decide whether it should be configured automatically or manually.
Please remember that if you perform manual updates, after you make changes, you need to click on Save changes. Otherwise the update will not be visible in your shop. On the other hand, if opt for automatic updates, the changes are published automatically.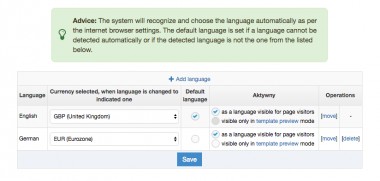 You can also link a currency with a language so that the visible currency adjusts to the shop language chosen by a customer, or detected by the browser settings.