In inspirations on furniture and bikes, we have presented using product groups in a way which enables choosing not only visual aspects of a product, but also technical ones. Below inspiration concerns clothing on the basis of an example of a T-shirt. Choosing size and color is a case easy to imagine, as it can be provided by a standard module implemented in each shop front. We have decided to give free rein to our imagination and present a fully configurable sports T-shirt.
You simply have to add a few additional parameters to a product, commission our graphics department designing an eye-catching choice form to receive a sports T-shirt configurator in which one can choose: size, color, sleeve length, male or female line. It worth to mention an additional option mentioned in such configurator, namely the possibility of entering a text which in our example will be sewn into or sticked on the T-shirt as a surname or a nickname of a player.
Have a look at the design of an entire product card: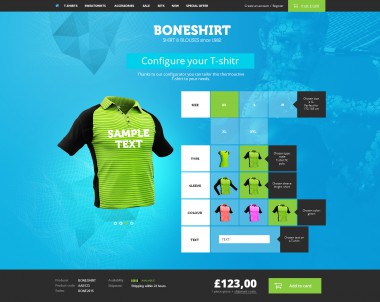 Above example is one of the possibile uses and implementations. We encourage you to consult and order dedicated solutions prepared especially for your shop.