Best online selling solutions
Increase the potential of your store by presenting your offer in a marketplace!
At IdoSell Shop, we pay great attention to freedom of choice, openness and sales in many channels. These values perfectly reflect our center of integration with marketplaces (intermediaries in placing orders). All orders, from all channels are integrated in one queue of orders and handled in the same way thanks to our WMS for e-commerce. Built-in integration with many marketplaces is without any restrictions and fees, and allows sales not only on the most popular sites like Allegro, eBay or Amazon but an unlimited number services. Thanks to the open structure, the system also enables creating programs on your own which we integrate thanks to the possibility of creating individual extensions or thanks to IMF's open protocol created by us you can integrate yourself with any marketplace on Earth.
What is marketplace?
Marketplace is a place where many entities simultaneously offer their assortment from many different categories. Thanks to the presentation of your products on different marketplace platforms, you reach more potential customers, where they can buy your product right away. Thanks to our WMS for e-commerce, handling such order is practically identical to handling orders from other sources. You simply pack such an order and send it.
To start selling in this service, all you have to do is to sign a contract with selected marketplaces, add them to the list in the IdoSell Shop administration panel and provide access data for the selected platform. After the marketplace collects information about your products, you can only wait for the first orders.
The new Marketplaces module is enabled by default and is located in MARKETING AND INTEGRATION / Marketplaces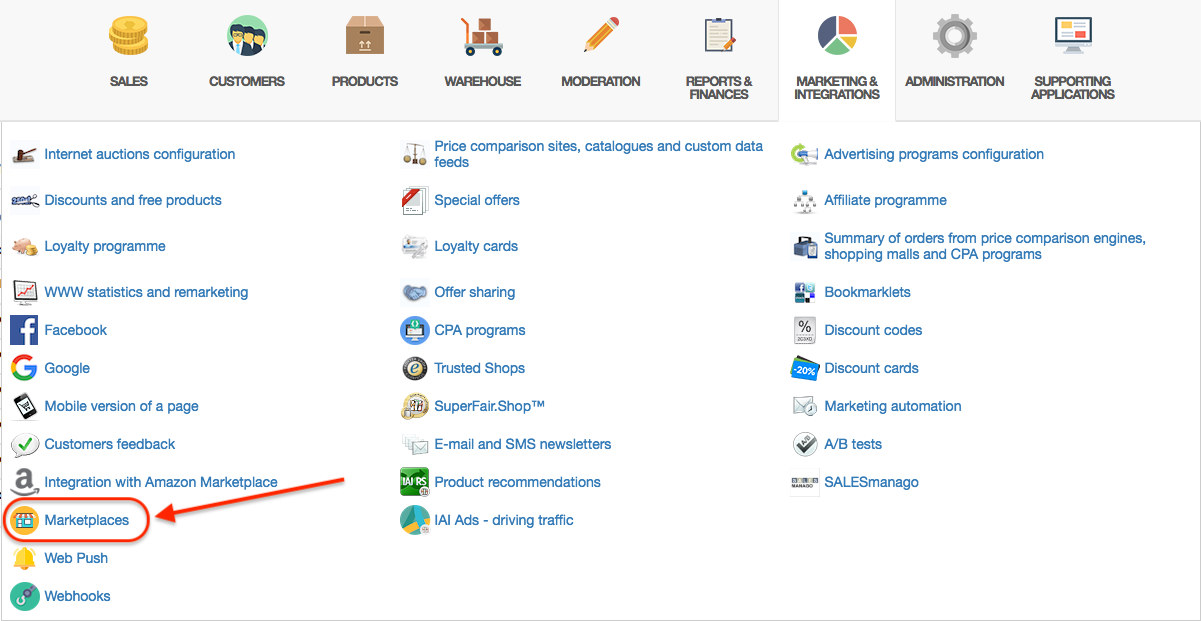 Thanks to IdoSell Shop you can reach new customers thanks to the built-in integration with many marketplaces.
You can use existing integrations with Allegro, Amazon or eBay and the new one with Morele.net. All the time, however, we are working on further implementations and the integration of Carrefour Marketplace and Ceneo - BUY NOW. We also plan to add integration with Empik.com and eMag.pl as well as all other marketplaces in Poland and abroad.
Do you use dropshipping or fulfillment? There is nothing to prevent you from submitting orders from the marketplace to wholesale store handling dropshipping. You can do the same with marketplace orders if you use fulfillment or outsourcing of packing and shipping processes. The marketplace module is an integral part of our system, so you can easily adapt our system to your business, while maintaining full freedom of choice of the operating model.