Ready to use, universal solution for all mobile shops. It can only be our Standard Mobile Layout
Can you imagine life and your business without the Internet? I bet you can't. Also mobile Internet is getting more and more popular. It is extremely useful in everyday life, therefore the number of customers doing shopping online via mobile devices is constantly increasing. For such users, simple and clear navigation combined with big functionality is what really matters. Basing on that aspects we have created a mobile shop and Standard Mobile layout. It has been designed with the use of the newest visual and functional trends.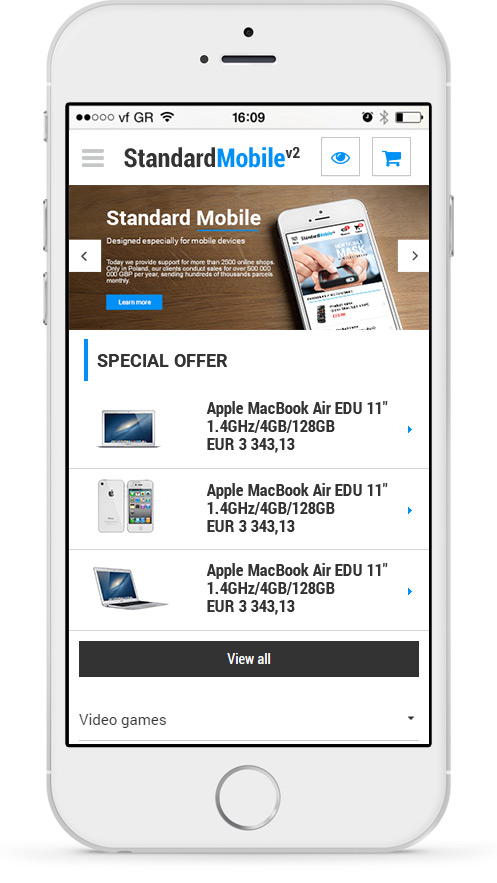 Standard Mobile Layout is a ready to use solution dedicated to all shops, regardless the business branch. This layout can also be modified and customized. Cost of such changes is really small as we do not need to create a template anew but we redeisgn it according to your individual needs. Moreover, thanks to the second, mobile version of a shop, you can use Standard Mobile layout as a solution for your standard online shop. If you want your mobile and standard versions of a shop looking the most alike and their elements being displayed in the same positions - this solution is a perfect match.
Colors of the layout have been chosen scrupulously to make a mobile version as clear and comfortable to use as possible. White and gray colors of the layout contrast with the text. As a result your eyes do not get tired when using this version. Additional usage of blue color, highlighting the most important positions that should be eye-catching for a customer during shopping and a check-out process, is yet another asset of this layout.
Many functions of IdoSell.com mobile shop's version are unavailable in standard solutions and their implementation would require spending additional amount of money and employing additional specialists. For example, if you sell internationally, with us you do not need to worry about the translations. IdoSell.com provides you with a mobile layout in Polish, English and German.
Standard Mobile layout has been designed to be a reflection of a traditional shop. Therefore, if a customer places an order in your online shop, the status of the order can be later on checked on the mobile version. Standard Mobile is designed for a touchscreen however, it has many functions of a desktop layout. Your customers can choose the layout of a shop and navigate freely between the desktop and the mobile version.
Standard Mobile layout's main characteristics are compatibility and availability. It functions with: iPhone/iPod Touch Safari, FireFox, Chrome, Internet Explorer, Opera Mobile and Google Android Browser. The interface is adjusted to devices with and without a touchscreen. Dedicated JavaScript and HTML, removing unnecessary addons to make the website load faster, are just some of the functions of Standard Mobile.
Detailed description of functions are presented in the gallery.
Available language versions



Gallery