eBay Compatible Application Check certificate
IdoSell Shop is now on the list of eBay's official partners and supported applications. See what advantages our certificate brings you.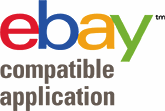 The certificate means that IdoSell Shop offers both eBay and its own clients a business solution that minimises the effort and time necessary to set up effective EBay auctions. eBay only issues its certificate to those companies that meet all of its rigorous requirements and that it considers to be partners worth recommending. Thus, the certificate serves as proof that IdoSell Shop is a professional, respectable and effective partner that successfully facilitates auction sales.
Advantages of certification
unlimited access to eBay services (for partners without certification, access is limited by API call limits).
more effective data exchange between IdoSell Shop and eBay
a guarantee that all IdoSell Shop eBay support procedures are compatible with eBay and accepted by it
sell eBay listed items faster and allow your clients to buy them quicker with innovative eBay solutions from IdoSell Shop