Implementation case study - Italian Fashion

Italian Fashion
Bespoke implementation
Italian Fashion Outlet is the first Polish online store offering exclusive Italian fashion. Bearing this in mind, the design was stylistically adjusted to the assortment. Elegant style and professional photos create a unique character of the store. Main page is also attention-worthy, as it presents a modern banner arrangement. The main banner zone was divided into two parts, leaving a customer with a clear choice. A chosen assortment is presented below, so a customer gets to know the offer at the very beginning. Product list was enriched with comprehensive and well-thought filtering, while products present additional information about colors or sizes.
RWD store
A responsive store means a coherent design and full intuitiveness regardless of the device used by a customer in the shopping process.
Store designed in HTML5 standard
Using the latest standard allows for more varied and more powerful implementations of stores and mobile applications.
Browser compatibility
IdoSell online stores are optimized for the most popular web browsers.
Mobile app
Thanks to a mobile version of your online store, you get another sales and marketing channel.
Professional webmaster team
Our specialists take care of fast and effective implementation of the highest-quality store tailored to customer's needs.
Modern, versatile online shop engine
Thanks to a mobile version of your online store, you get another sales and marketing channel.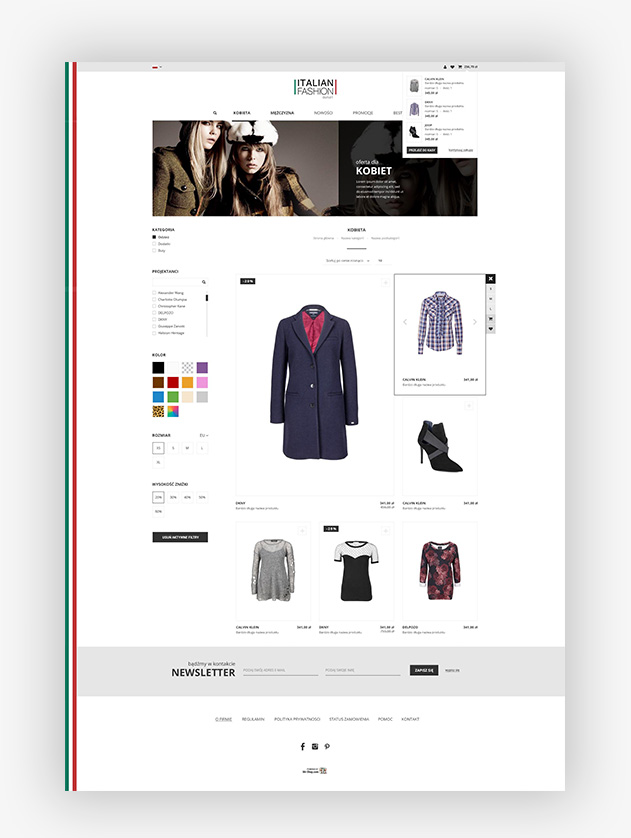 Bespoke implementation
IdoSell Shop offers 4 paid implementation packages created for the 90 % of designs we implement, enabling the effective use of a relatively small budget. BESPOKE offer exceeds the SUPREME implementation package – its price is set individually depending on the complexity of customer's requirements analyzed by our specialists. If apart from starting your online store you plan non-standard integrations or you want to introduce changes into our system, then you can take BESPOKE offer into consideration.
Check out more examples of bespoke implementations