Read our first interview with our international retailer Jarosław Mrowiński, the owner of the store Your Healthy Choice.
We have been developing new solutions for international retailers for a long time. As a result, we not only offer our services on foreign markets, but also give Polish clients an opportunity to increase their sales via exports. One such retailer is the store Your Healthy Choice, a client of ours that took full advantage of this opportunity and successfully sells its products in Ireland.

Jarosław Mrowiński's store was designed for people who appreciate the exquisite taste as well as nutritional and health benefits of honey, tea and coffee. Read the interview the owner of yhc.ie gave to eKomercyjnie.pl. Reproduced below is the full interview published on 8 April 2013 on eKomercyjnie.pl
eKomercyjnie vs. Jarosław Mrowiński – The "Show Your Store" series
Paulina Wawrzyczek (eKomercyjnie.pl): Why did you decide to launch an online store?
Jarosław Mrowiński (Your Healthy Choice, yhc.ie): It all began with honey. My cousin from Gródek on the Dunajec River, Piotr Kołacz, got me hooked on it. I investigated the Irish market and decided to start selling there. I launched an online store to reach more customers, especially my fellow Poles, who know the taste and value of real honey. I then focused on tea and its many varieties as well health benefits, in addition to getting into coffee.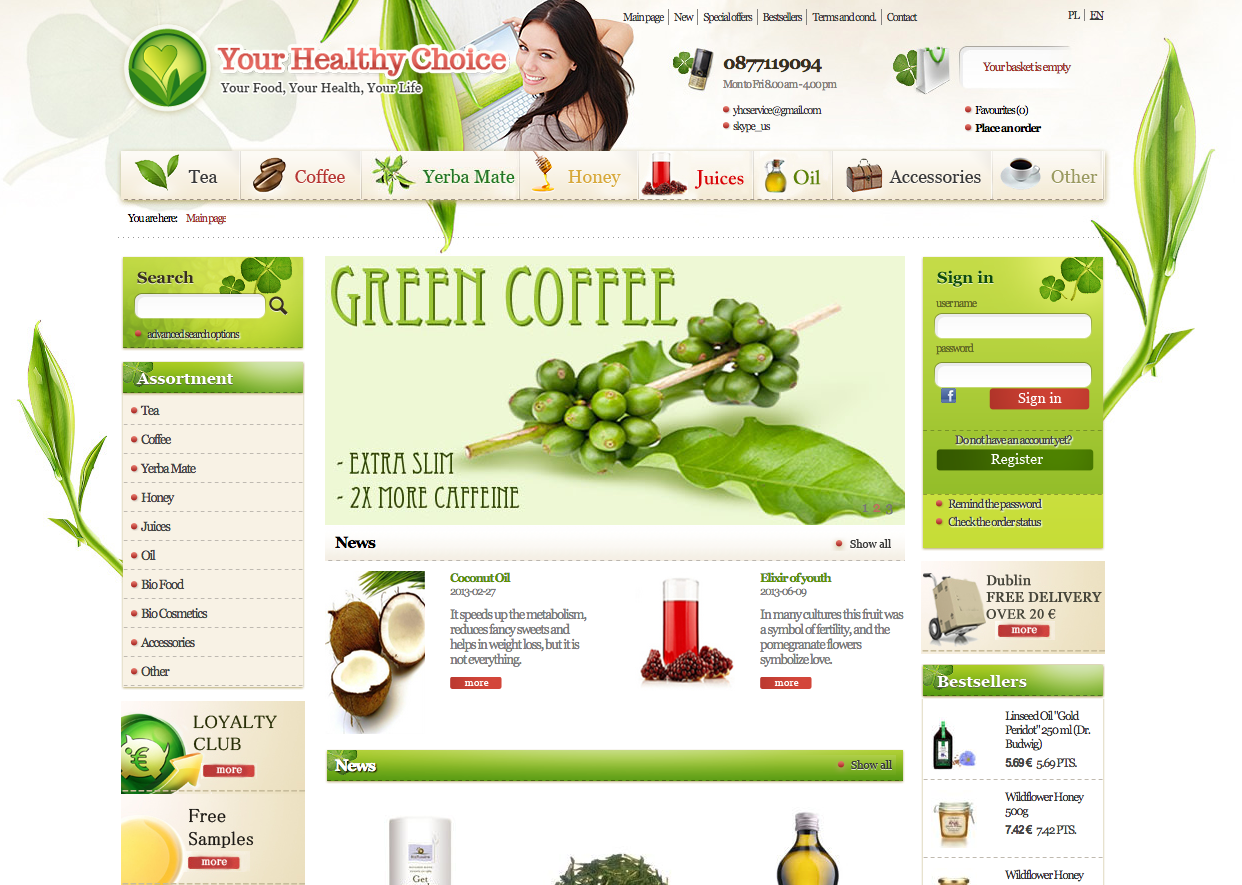 What had you been doing before you decided to launch an online store?
I had been working for an electronics company for several years, but had already been importing honey from Poland and reading about its beneficial effects. When the economic recession came to Ireland, my employer closed shop. I decided to start my own business under the name Your Healthy Choice. You might say that I turned my passion into a business. I really get real satisfaction from every product sold.
Why did you choose that particular industry and such a specific product range?
A passion for bee-keeping is in my blood. Although I have never had my own bee yard, I have known the taste and the value of real honey since I was a child. My interest in teas and coffees, and especially Yerba Mate, came later. Today, I like to see myself as a kind of connoisseur of those hot drinks. I am constantly searching for new brands and sources. We already provide Yerba Mate from Argentina and Paraguay, honey from Poland, Spain, France, Italy and Ireland, coffee directly from coffee roasters and hand-rolled tea. I want my store to provide the highest level of service.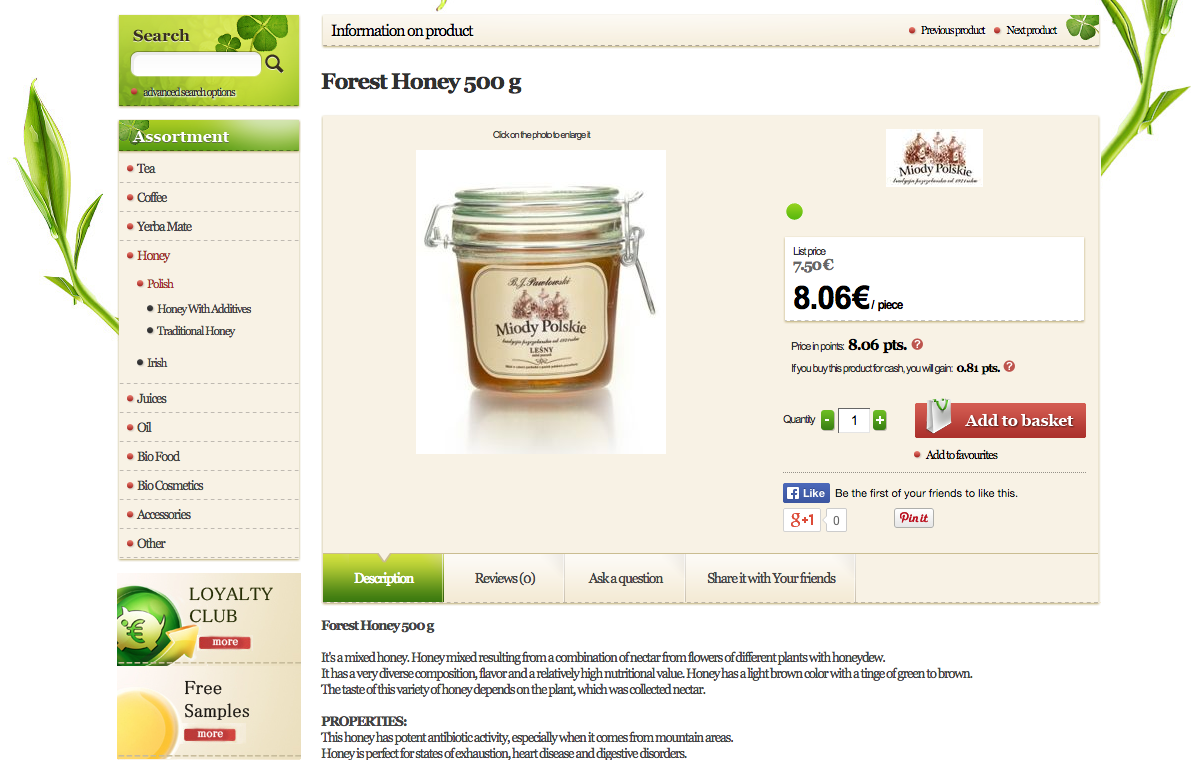 Did you choose a ready-to-use platform or did you create your own?
It is my second website. I was not satisfied with the previous one, which was only seen by a minimal number of visitors. I learnt from my own mistakes, and so I decided to entrust my second website with a professional company that had positive reviews. I opted for IdoSell Shop.
The designs proposed by IAI were well selected. There was no need for me to ram through my own ideas. I operate from the assumption that it is better to listen to those with more experience. I currently design all the webpage graphics on my own, apart from the permanent elements, because graphic design is also my passion.
How long did it take to launch your online store?
About 5 weeks. Obviously, you also need to take into consideration the time spent preparing the content to be published on the website. Most descriptions were imported from the previous portal, and this saved a lot of time.
What was your budget at the start of your e-commerce activities?
I invested 10 thousand euro at the start. However, you could say that I am constantly investing, because I have been gradually increasing the number of products in the store. Please note that many ideas come from our customers, who suggest products they would like to buy.
How many orders were placed soon after the store was launched?
Before the website was launched, I had already been doing individual sales and had been my own tester. I will not offer any product that I do not like or buy myself. I believe that my customers would subconsciously feel it if I did. Inviting existing customers to register themselves took a couple of days, and after two weeks I had approximately 60 orders and 100 likes on Facebook.
What marketing activities have been the most effective for your store?
I would say banner advertisements and promotions, because everyone loves special offers. Healthy lifestyles are still "in", and spring is the perfect time to improve your figure – this brings us to healthy nutrition, which I promote via my website and Facebook.
My store also provides gift sets, i.e. products that are nicely packed in wicker baskets that suit a particular occasion. Nevertheless, nothing can replace talking to your customers. I do my best to answer all questions and provide succinct advice as to which product is the most appropriate. Of course, small samples of things like tea play a huge role. They are the perfect marketing bonus: before you buy a product, you can test a sample of it. This helps customers to discover and try out a new product, and buy a greater amount of it in the future.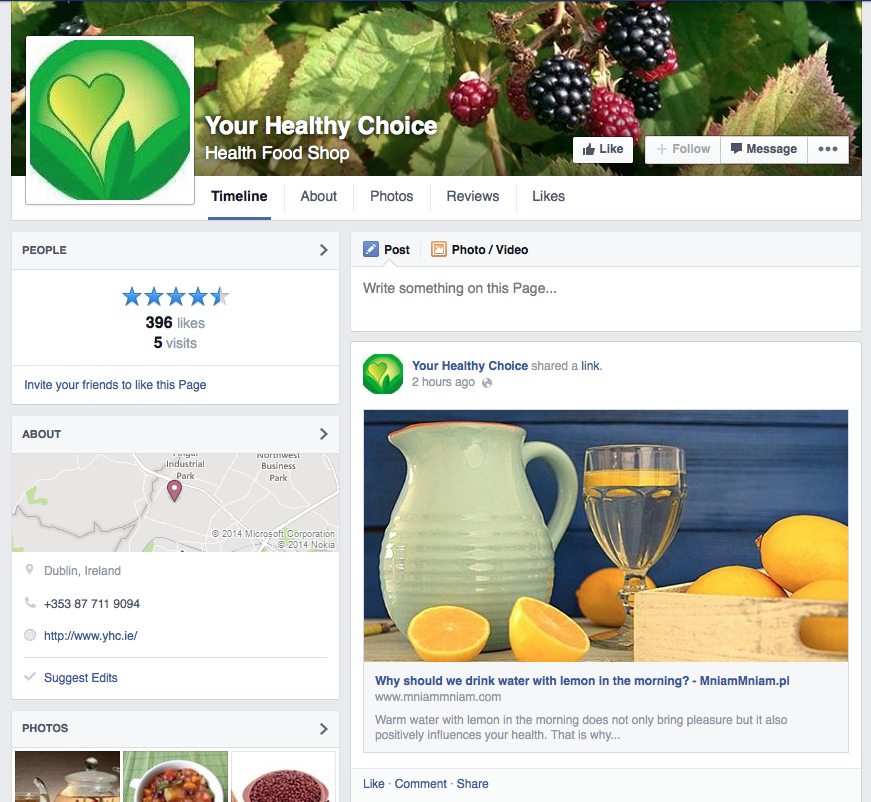 If you were to launch your store all over again, what would you do differently?
I would use the services of a professional company from the very outset. There are many things that need to be done when setting up your own business and they take a lot of time. Having a well-prepared store let me focus on selling and communicating with customers. The only thing I had to do was to accept a graphics version and layout. The whole configuration process was extremely easy.
What does the process of fulfilling an order look like?
The process usually takes from 1 to 48 hours. We try to send out most orders within 8 hours. Sometimes I get into my car myself and put on my courier hat and talk to the customer about what products they would like to see in our store, and ask if they are satisfied with how the store is operating.
What percentage of orders comes from customers abroad?
Not a large one, because we do not advertise our shop in the UK or other foreign countries. Although demand in Ireland is still very high, we are open to orders from abroad. What's interesting is that we'll sometimes receive an order for honey, a gift set of blooming tea or flavoured coffee that was imported from Poland but ordered by customers who are going to visit their family in Poland and want to bring those products as a present. Our products are undoubtedly interesting gift ideas.