Two years ago, the owner of a company distributing natural cold meats asked if we would be able to modify IdoSell Shop, so that they could sell their products by weight. At first we could not imagine how the many potential transport issues could be handled. A sample package sent to us along with the contract dispelled our doubts. Great packaging and transport, professional photos and excellent quality of meats made us an instant believer. We put a great deal of effort to modify the IdoSell Shop code, creating the so-called units of measure module in which we enabled the introduction of the so-called divisible units. As a result, the customer can buy for example 256g of sausage. Have a look at the opinion expressed by the owner in April 2009:
Three years ago I started my adventure with e-commerce. I had undergone several surgeries and thus, I could not continue a traditional form of wholesale. At that time shopkeepers were against certified regional products. Little has changed so far, because instead of traditional products, customers are offered pseudo-traditional products at a lower price.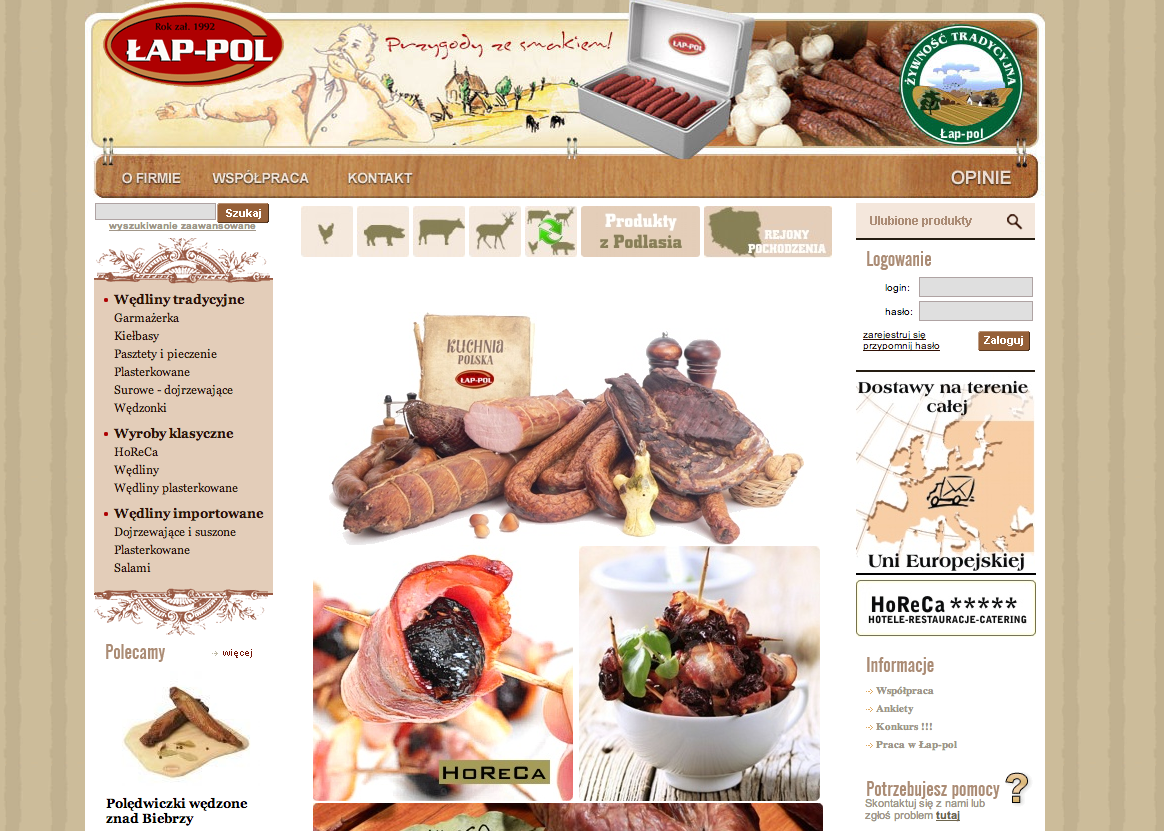 Like most people I started out by selling on Allegro. However, it did not meet my requirements. What is more, frequent quarrels with Allegro support, listing cancelations and other difficulties were a real problem. When my previous Allegro account was closed I knew I needed to make some changes. I began looking for alternatives. I had regular customers who still wanted to order our products. I wrote down what features would be necessary in my store, what design it should have and I started looking for a suitable software. Most companies operated on specific templates which could not be adjusted to the needs of customers. Each change would be very difficult to introduce and thus, very expensive. Then I came across IdoSell Shop. The offer was not the cheapest one, but after talking with Paweł Fornalski I knew that the majority of required features have already been implemented in the system, while others will be introduced when creating the store. We finally started selling online. I loved the fact that I had the influence on the shop design process and could stay in touch with the company. Several new options were created especially for us, for example the ability to sell by weight.
At the beginning the number of options in the panel was a bit overwhelming, but I learned to use them and now I can not imagine functioning without them. Thanks to IdoSell Shop features, the order handling process was significantly shortened. What is more, the administration panel and its functionalities are being constantly expanded so that all the clients get new interesting features improving their work. Many things were automated and thus, I save my time.
One of the main advantages of IdoSell Shop is that you can open several shops in one panel. I am opening an e-shop in Germany and this functionality will really facilitate the order handling process. The whole service is perfectly prepared and professionally supported.
Summing up, I recommend IdoSell Shop to all people who want to develop their business and not get stuck in one place.
Marcin Łapot
Łap-Pol.pl
April 2009.
Online store with cold meats: www.lap-pol.pl
Łap-Pol.pl Gallery