Graphics for a wholesale store
Running a company webpage, a product catalogue and a system for order placement is ineffective. Our graphic designers will create the page which gather all of the functions and will be your showcase.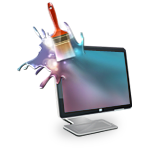 Customized graphics
Your wholesale store should be as attractive for your customers as the online shop is for retail customers. What will highlight your wholesale store is a modern and intuitive site with attractive graphics. All wholesale stores use our newest application version. What makes the stores unique is graphics. We encourage you to contact our graphic department and order a customized layout. Not only will we design the layout but also a logo. Additionally, we will select components suitable for you assortment, taking into consideration your customers' comfort. Our graphic designers will make sure that shopping in your store will be secured, fast and pleasant.
Well designed online wholesale store will easily replace number of traders taking phone, email or fax orders. Before you decide on the design of your store read more about different ways of running an online wholesale store.
Customized graphics:

unique design which highlights your store among competitors
freedom in creating the layout
possibility of selecting components and functions according to your needs
paid updates of your site if instructed
advise and supervision of an assigned graphic designer
When creating your online wholesale store use one of our available graphic variants. They differ in price and in customized changes implementation. Range of actions taken to create your wholesale store within a variant is the same as when opening a retail shop. Read more about available graphic variants:
Standard graphics – quick start up
If you do not want to build your store basing on graphics or you just want to open a wholesale store at minimal cost, use our wholesale STANDARD B2B offer. It is a free of charge layout which allows you to open professional wholesale store in one day.
STANDARD B2B layout:

quick start - the layout is available and ready to use immediately after a store's installation
low cost - no need to commission graphic works (still you can order logo, banners or small individual modifications)
automatic updates - you can update layouts versions as soon as our graphic designers make them available
no possibility of changing layout and functionalities - each commissioned change cause a design of a customized layout
Learn more about B2B STANDARD.
How to order?
You can place an order for a wholesale store the same as you place an order for an online shop. When filling in the order form you can mark which graphic variant you wish to implement. Request to design a customized wholesale store layout or to make the STANDARD B2B mask available can be sent via ticket system after you gain the access to your administration panel.