Dotpay is a very popular on-line payment method.
Due to IdoSell.com and Dotpay cooperation, all our customers can use a convenient option of automatic payment registration. There is no need to register each payment manually any more. In the administration panel of IdoSell.com, the payments made via Dotpay, can now be registered automatically.
Yet additional asset is minimization of committing a mistake. How many times have you tried to figure out which order the payment is associated with? It was due to lack of the relevant information. Using payment automatization via Dotpay the risk of committing a mistake equals zero as payment, same as its registration, is made automatically.
Below you will find the scheme of automatic payment registration for Dotpay in IdoSell.com: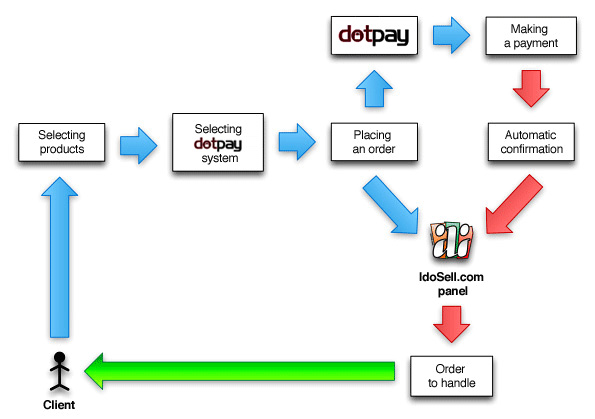 IdoSell.com finishes with systems in which faults in integration require additional work.
We have observed that registering each and every payment is repeatable and laborious thing to do. Therefore, we have introduced full integration with Dotpay anticipating our competitors once again.
IdoSell.com automatizes another process which is a part of the on-line business transaction. Automatic payment registration, same as any new function of the administration panel, is already available for all our customers.

Configuration of Dotpay in the administration panel is extremely easy and takes just a moment. The guide on how to synchronize Dotpay can be found here.