We would like to present an interesting case study of Poszetka.com, which was discussed by Gazeta.pl. Joanna Krajewska-Godziek managed to achieve success in - as it seems - very niche industry thanks to her hard work and, hopefully, IdoSell.
How to call this thing that men like
Customers call it differently: usually they ask for a handkerchief which is tucked into the buttonhole.
Some just ask for a buttonhole. That is why, a 27-year-old Joanna Krajewska-Godziek wants to teach people its proper name before selling her products.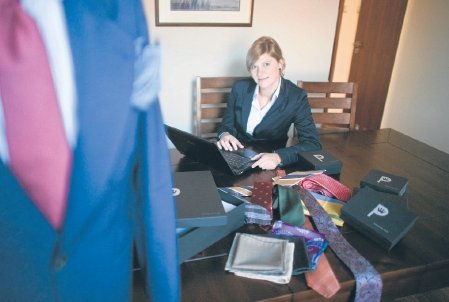 The photo comes from Gazeta.pl
When Joanna and her husband, 31-year-old Tomasz, came up with the idea to make and sell the increasingly popular part of male wardrobe, they also did not know its proper name. It all started by chance. Tomasz, the head of marketing in a large Silesian development company, had a meeting with the notary. - He was smartly dressed and had a handkerchief in the breast pocket of his jacket. It made a big impression on me and I decided that I have to buy it - he recalls.
Immediately after returning home, he and his wife started a research. They tried entering different names and they finally found information that it is technically called a pocket handkerchief or a pocket square (in Polish – poszetka). A buttonhole, on the other hand, is a hole in jacket's lapel, into which a flower can be inserted - says Tomasz.
However, Tomasz failed to buy a pocket square, as at that time they simply could not be purchased in Polish online stores. Joanna, who was at that time on maternity leave, offered to make one for her husband. Since she had some material left, she made the next 10 and created a listing on Allegro. She had to quickly make more pieces, because in the first week she sold 15 - At this point we noticed that there is a gap in the market and it is worth thinking about starting a company that will make pocket squares and sell them - says Joanna.
Joanna had little in common with tailoring. She has an MA degree in tourism and worked in a travel agency. Previously, they had the idea to start a pet grooming company. However, it turned out that there were similar businesses in Katowice. Their business was innovative. Not only in Silesia, but throughout the country. So they began to collect information on how to make pocket squares, what materials should be used, what is the proper size. - We created a survey to find out which were the most appealing to customers - says Tomasz.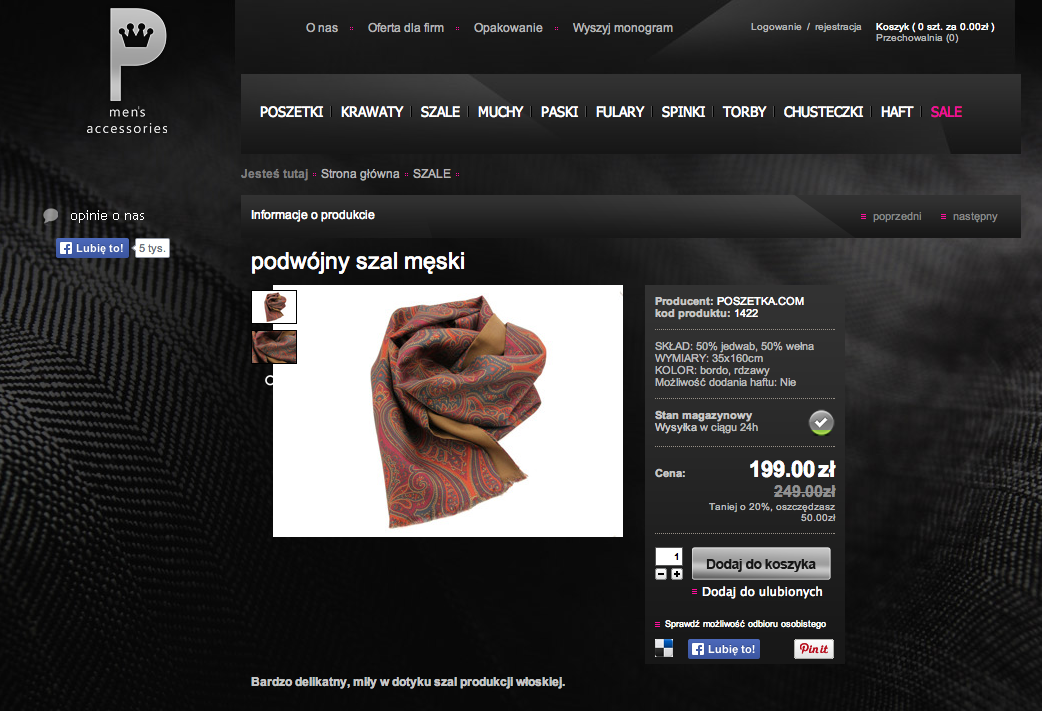 They bought the Internet address Poszetka.com (for 9 zł) and began to wonder how to get money to start a business. First, they thought about some support from the district labor office, but it turned out that if Joanna is employed, they could not get 19 thousand zł for opening the company. They learned, however, about the EU project Upper Silesian Regional Development Agency "Business Class", which was designed precisely for people like them - starting their own business.
In May 2010, they submitted the relevant documents and found that despite strong competition (600 applications) their business was among other twenty which got to the next stage. It consisted of completing a five-month training at the weekend, every two weeks. – It helped me a lot. They taught us how to write a business plan, about self-promotion and the basics of accounting. It also allowed me to get rid of too much optimism and think over my business seriously - says Joanna.
After five months of training, they had to submit a business plan. Best fifteen plans could get up to 40 thousand zł for opening a business. Joanna's company was one of the lucky winners and received a grant.
The company Poszetka.com was registered in March 2011. On 1 June 2011, an online shop was opened. – To start up, we spent around 50 thousand zł. We bought sewing machines, embroidery machines (embroidering a monogram), computer equipment, a camera. We also bought elegant boxes, in which we would send the pocket squares - says Joanna.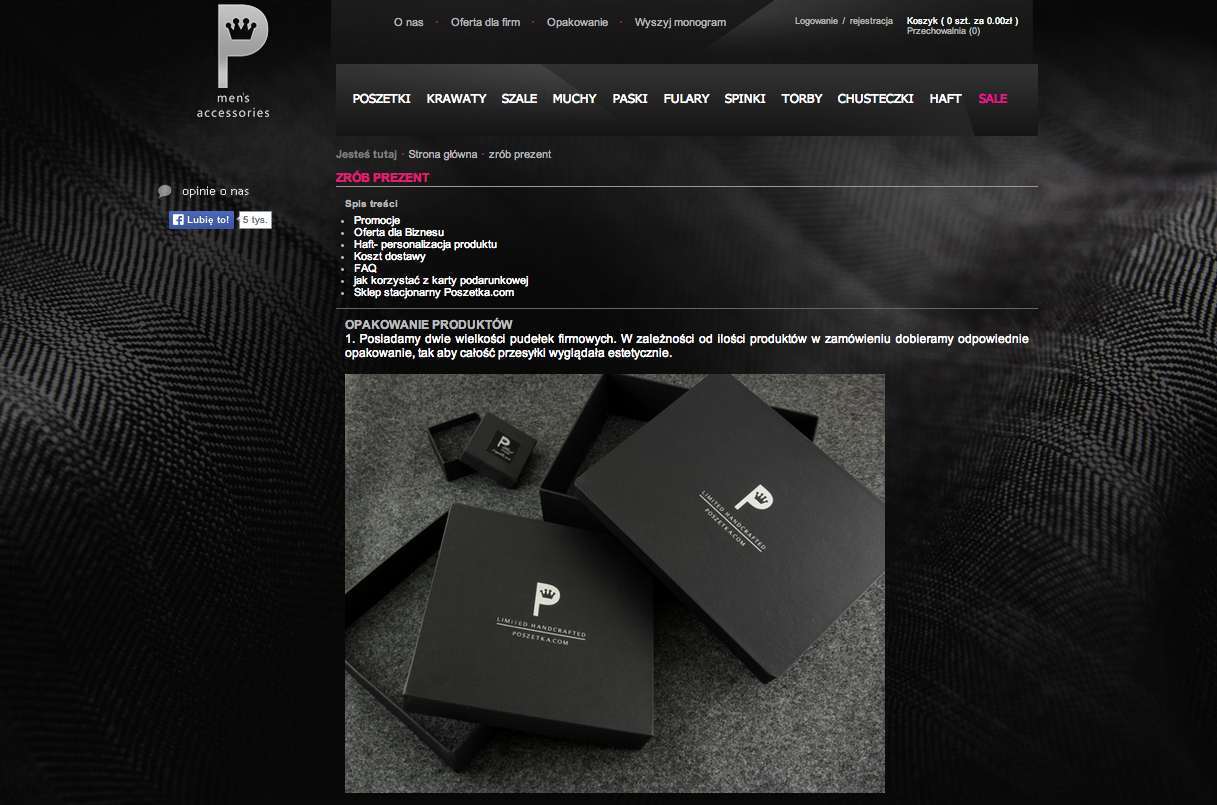 They focused on PR activities. They put information on Facebook, fashion blogs, as well as "Gazeta Wyborcza", "Forbes", "Male Man" wrote about them. - But good opinions of bloggers were of crucial importance - admits Tomasz.
They started from hand-hemmed (39-79 zł) and machine-hemmed (29-69 zł) products. As they mostly sold the former ones, they decided that they will aim for the highest quality: the finest materials, hand-hemming (one takes half an hour!), limited series (6-12 pieces). Joanna started going to Italy for materials. – It was difficult to find interesting patterns, but there is another reason: I need only 1.5 meter of material in a specific pattern, and this amount will not be sold by any wholesale store.
In the first month they sold 140 pocket squares. In August, they won the competition for a hundred free parcels sent by courier, so they could somewhat reduce costs, which also affected sales (normally shipping cost is 8-17 zł). - Sales, which in the business plan were planned for the first quarter of the year, we made in one month. Every day our shop was visited by approximately 150 people, even by customers from abroad - says Tomasz.
- We immediately assumed that ultimately we will be selling other accessories - says Joanna. At the moment you can buy exclusive hand-sewn Italian ties, scarves, cravats (scarves worn under the shirt) or bowties.
The company is still located in a private apartment, but Joanna is thinking about finding some other place.
Joanna already earns twice as much as in the travel agency. But most importantly, she has time to take care of her son. - When I got pregnant I knew that I need to think about something else - my office job would not allow me to take care of my baby. As many people, I was afraid to establish my own company, dreading that you get too much paperwork, that is complicated. Now, being my own boss, I have a chance for greater intellectual development. What is uplifting, thanks to me more and more people know what pocket square is and that it should be placed in a breast pocket.
Source: http://wyborcza.biz/Firma/1,101618,10649322,Jak_nazwac_to_cos__co_lubia_mezczyzni.html
Gallery - Poszetka.com