It is worth emphasizing that such projects were so far only available in individual or open source solutions. And this entails a loss of system vendor warranty over implementation, no free updates, and other SaaS benefits . In the solution we offer, it is created in a separate layer, not interfering with the engine. This way, the online store still has full service and updates, and can even change the template of your store with an individual One Step Checkout Process .
Complete order placement process on one page!
While creating and developing IdoSell we always listen to the needs of our customers.
In response to one of them, we started working on a new project - enabling customers to place their orders on one shop page. By taking up this challenge, we were aware of the difficulty of creating such a mechanism because our COP system is very extensive and supports a number of cooperating mechanisms.
This was achieved through the use of AJAX queries (queries sent to the server without reloading the page). Order placement process created by IdoSell is currently the richest and most flexible system available on the market. Each step integrates a number of options, starting with many payment systems , delivery methods and the possibility of placing an order at a specific place, within a specified time.
Our system also has a fully ergonomic real-time order editing option, which stands out from other systems.
Arranging elements on the page
The above is an exemplary implementation. Based on the fact that we most often change the philosophy of our standard COP, removing unnecessary elements or optimizing space, many elements have been simplified and grouped on one page.
One Step Checkout Process is a great complement to One Page Shop
One Step COP (also called One Step Checkout Process) can be used to better implement the idea of ​​ One Page Shop . However, this technology can be used in any new and previously implemented store.
Does my store need One Step COP?
Shortening the shopping process is dedicated to stores that have fixed payments, couriers, and warehouses - generally all logistical mechanisms that are already fixed and unchanging. This applies most of all to big stores. Such a structure can be easily adapted to the individually prepared one-page COP form. If you have a permanent configuration of logistical mechanisms and you will not change them, this is a profitable solution to be implemented in your store.
What is the difference between a standard and one-page COP
The greatest advantage and distinctive feature of the Standard COP is its flexibility and a wide range of options to choose from, which makes it suitable for any industry. It is designed in order to offer a multitude of functionalities combined with the capabilities, to create a very good UX (user experience). This is achieved by spreading the ordering mechanisms into a number of subpages, making the ordering process flexible in every step.
One Step COP is primarily presenting all relevant information from the point of shopping process on one page. An appropriate and thoughtful configuration, which does not allow you to show too many options on one page, is of great importance. Minimizing the amount of information and options, we can easily close the transaction by the customer. The most important feature of this concept is the combination of four functional and flexible steps into one. Namely the customer registration, the payment and delivery selection, the pickup location selection, and one of the most important steps, the pre-order summary.
All the steps are fully functional and based on the settings of the panel - store service can modify the configuration of the shopping process.
Logging in and registering a new client
Thanks to AJAX, the complete mechanism does not exclude the ability to log in through external services such as Facebook or Google+ . It works in real time on one page without having to reload the order page.

The standard form of registering a new user has been set up on one standalone and autonomous subpage. Only this guarantees a clear and thoughtful layout presenting and giving the opportunity to introduce a variety of information when registering a new shop customer. An additional advantage is the clear way of showing different delivery addresses.
To ensure the readability of information, we had to adjust the features and content to one block per page. This was achieved by dynamically responding to the selected options and the scenario in which the order subpage is displayed. Thanks to this we have included almost all possibilities in very limited space.

Summaries before placing an order and comments.
The concept of a one-page ordering process has eliminated the need for a separate order summary page. This is the main idea of ​​the One Step COP.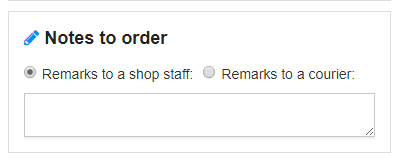 How to start a COP change?
The best way to start each change in the shop mask is to contact your mask supervisor. Just send a ticket to them in which you will describe your expectations and the idea of ​​shortening COP. Your supervisor is a specialist with many years of experience, who will advise you on the most optimal solution and will provide you with expected costs of preparing an individual project for your online store.