Gallery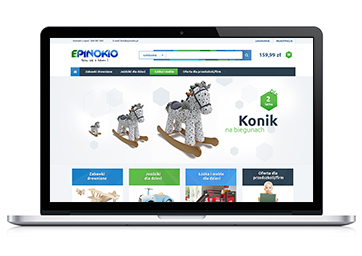 Check out examples of SOPHISTICATED implementations
Give your shop a unique character
If you would like our implementation services to be focused solely on graphical design, we will professionally tailor the most important sections of the shop to your needs (that is, pages which your customers go through to find their desired products and add them to the basket). The sections are - the main page, product list and the product details page. Our qualified Graphical Designers will take care to apply the latest standards, both in looks and usability, in order to maximise your sales - your ideas and vision will be professionally translated into a functional shop. The SOPHISTICATED package also allows you to create a non-standard component and add it to your shop. This can be anything from a flashy way of selecting product size, or colour, untypical layout of the product list, or a sophisticated navigation.
Choosing this package will also be a good choice if you are looking for a comprehensive shop integration instead of a complicated graphical design. SOPHISTICATED is sufficient to create a more typical shop, close in its design to our standard templates, while also allowing us to assist you with data imports, training your staff, creating brand logos, drafting e-mail and auction templates, or applying translated content. The package includes 90 work-hours that can be used for our specialists' services. If you are looking to implement non-stantard solutions, which we are always happy to help you with, simply discuss them with us at the planning stage.
See the guidelines for SOPHISTICATED implementation package.
SOPHISTICATED implementation package means:

Unique and detailed design, prepared according to your needs, which will make your shop stand out


Individually created shop logo, which will allow you to successfuly build your brand image on the internet


Three page drafts by default - main page, product list (search), product details - with the possibility of designing more non-standard pages, simply include the request at the planning stage


Customising page components and designing their content in accordance to the type of your business


Possibility of extending the standard functionality with additional widgets and elements


Longer implementation time in comparison to implementations based on BASIC and ADVANCED packages


Our specialists take care of your store throughout the period of our cooperation


Possibility of implementing modifications in the future through additional tasks


90 work-hours to be used for our specialists' services


Possibility of including data import tasks, training, branding, etc. in the package - those need to be agreed at the planning stage, and will affect the amount of work-hours available for graphical design tasks
Price: 4449 USD
If you would like to provide us with your own design
This implementation package is an excellent choice if you have your own design or you are planning to create it together with your graphic designer or another company. Individually designed templates often differ from our internal ones in terms of layout and functionality, which sometimes can make them incompatible. Our experience shows that the SOPHISTICATED implementation package is usually sufficient for making the necessary compatibility updates. We always suggest consulting individual designs with us, prior to placing an order for the shop. The SOPHISTICATED package includes design drafts for three sections of the shop - the main, product list and product details pages. Remaining sections are implemented in a standardised, well tested format. They are, of course, designed to match the whole project's style.
If you have more complicated requirements
If your requirements go past what is available in the SOPHISTICATED package, or if you desire more freedom in making your vision a reality, you should consider either the SUPREME or BESPOKE packages.