Gallery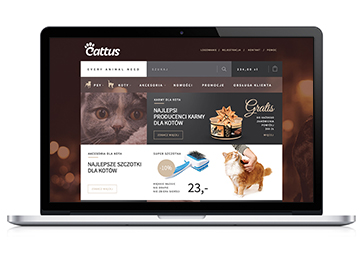 Check out examples of ADVANCED implementations
You can use the ADVANCED implementation package in two ways
You can commit time available in the package towards creating a personalised look for your store. Our Graphical Designers will prepare drafts of two sections for you - the main and product list pages - adjusting the design to your vision. If necessary, some elements visible on the designed subpages can be deleted or replaced with other typical elements, or functionality. System training and data imports can be commissioned separately, beyond the implementation package.
Alternatively, you can choose to focus on services beyond graphical design. You will still receive modern and functional shop templates, from our standard collection. Additional things we could help you with include designing your shop's logo, email, newsletter and auction templates, as well as performing data import and providing initial training to you and your staff. Such additional tasks should be commissioned through our ticketing system.
ADVANCED implementation package means:

Highly personalised look & feel of your shop


Individually created shop logo, which will allow you to successfuly build your brand image on the internet


Two page drafts by default - main page, product list (search)


Relatively short implementation time


Our specialists take care of your store throughout the period of our cooperation


Possibility of implementing modifications in the future through additional tasks


50 work-hours to be used for our specialists' services


Possibility of including data import tasks, training, branding, etc. in the package - those need to be agreed at the planning stage, and will affect the amount of work-hours available for graphical design tasks
Price: 2469 USD
We will provide you with a professional shop design
To ensure a relatively short implementation time as well as a reasonable price, templates designed as part of the ADVANCED package receive the same layout and width as STANDARD templates. However, in contrast to the BASIC package, we prepare personalised redesign drafts of two sections - the main and product list pages. Apart from individually selected colours and graphical styles, our designers can adjust typical elements and functionality to your shop's needs. Other sections of the store remain in their standard, modern and usable format, which we have been developing for many years.
If you expect more freedom in designing your shop's look and feel, for example by creating unique product details pages, or by enriching your customers' experience by including non-standard functionality, you should consider the SOPHISTICATED package. If, at the planning stage, you deem options available in the ADVANCED and SOPHISTICATED packages insufficient, you should check out the SUPREME offer.
If you prepare the design yourself
We are happy to implement designs created by you, or external creative agencies. Before chosing the ADVANCED package, we advise you to send your design drafts in for verification. We will still need to carry out work internally to make your designs compatible with IdoSell. It is possible that the 50 work-hours available in the package might be insufficient to implement everything. In such case, you will be able to decide wether we should provide you with our own designs, inspired by yours, which fit within the time constraints, or whether you would like to opt for a higher implementation package.