Best online selling solutions
Your store is now available on all mobile devices as a progressive web application (PWA)
In the modern world, shopping processes take place in any place and at any time: during a break at work or while waiting for a bus. In order to make it easier for your clients to access your product offer, we focus on the ability and convenience of using PWA (Progressive Web App) technology in each IdoSell Shop online store.
PWA is a technology for building websites, thanks to which while maintaining the advantages of mobile websites (e.g. no need for installation), we get the advantages of mobile applications (e.g. offline work, permanent login etc.).Customers in your store have the impression that they use the application because they will open a full-screen shop page without unnecessary bar with URL address. Therefore, mobile users also gained the ability to add a shortcut to the web application on the desktop of the mobile device. Thanks to this, your customers can shop in your store without having to search it online. From now on, it's no longer a problem having a network with a low quality standard or losing a connection for a while. A worse connection is not an obstacle to use your store. Therefore, if you are wondering how to set up an online store, we invite you to use our IdoSell Shop service, where you get many tools and usability, for which elsewhere you would have to pay extra.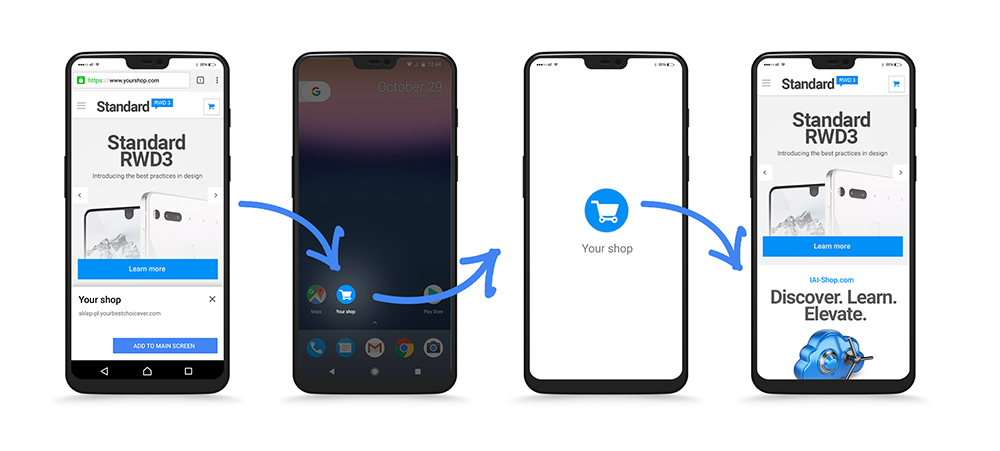 All the above advantages are available for your store, if it is based on the mobile template. This extension is available for all mobile websites, including those operating on older templates. However, we recommend that you update the template to a newer one that supports cache and AJAX technology because your store will run faster and smoother. Mobile shopping is becoming an everyday reality, which is why it is worth making sure that your clients can use your store without any problems. The web application, thanks to the cache, will remember what products your customers have watched, so that they will be able to return to the shopping selection immediately after switching on the application.
The advantages of the web application (PWA) in relation to the mobile version of the store and the application are:

Comfortable and direct access to the store without searching for it on the Internet. You can add the store icon to the home screen, so your clients have easy access to their favorite store.


You can use the store also when you have a weaker internet connection or when you lose connection with it for a while.


Constant login of the user, also in the case of disabling the application running in the background.


The store operates in full-screen mode without a traditional URL bar.


Increase engagement by web push notifications. They allow you to communicate with the user in real time, even if the page is not opened at the moment.