Best online selling solutions
Use Web Push notifications to display important information in customer's browser, as a supplement or alternative to emails.
Display Web Push Notification in your customer's browser which, regardless of emails you send, inform about the progress of handling the order, promotions, discounts, or product re-availability. Web Push notifications can also be sent to those who have not signed up or made purchases at your store, but have agreed to receive notifications in the browser.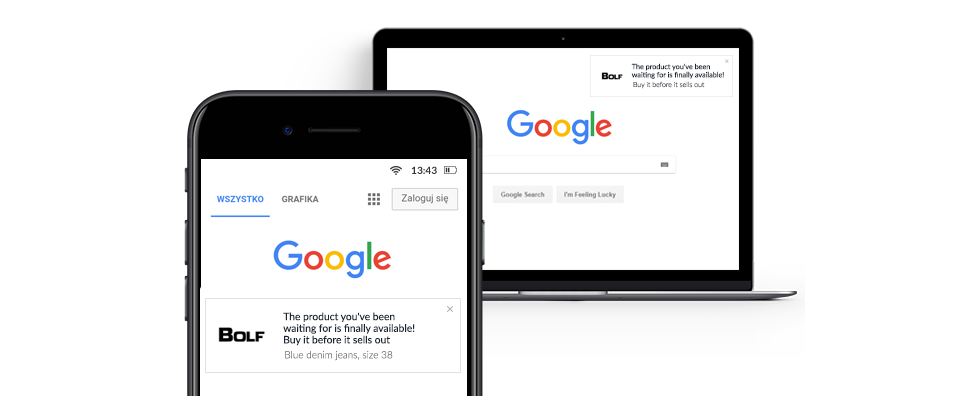 Getting to your customer with information about the progress of the order, promotions or product re-availability has never been so quick, simple and cheap. Web Push notifications appear as popup windows in the browser, but they are not considered as spam or advertisements, so they are not blocked by AdBlock . With Web Push notifications, you can view specific information in your client's web browser, not just on your desktop computer screen, but also on your mobile device. Interestingly, the information will appear in the popup window also when the person for whom it is targeted is not on your store page, and will also be able to "wait" until the user turns on their browser. On mobile devices, Web Push notifications will be presented as simple notifications which are showing up when using different mobile applications.
In IdoSell Shop Web Push notifications complement email and SMS messages, marketing automation and email newsletter. You can set it up in your store without having to install extra scripts or integrating external solutions (as it is with competing solutions). All you need to do is to have the E-mail Marketing Pro service enabled.
Web Push notifications for registered clients
You can also send Web Push notifications to identified customers in your online store when you want to notify them with a transactional message, for example about order shipment, or as a part of marketing automation for example about abandoning the basket.
Newsletter campaigns as Web Push notifications will also be available to unregistered customers and those not subscribing email newsletter
However, you will appreciate a true power of Web Push notifications when they work for anonymous customers who have not provided an email address or phone number, but have agreed to receive Web Push notifications. With Web Push notifications you can reach them with the email newsletter- they may receive a notification about the new newsletter and after clicking on the notification, view the newsletter on the store.