Best online selling solutions
Launch deferred consumer payments in your online store thanks to the "Pay later" service from PayU
For customers who prefer to pay on delivery, or who currently have insufficient funds to pay for the order, you can provide a new service with a deferred PayU payment "Pay later". It is a completely new payment method that works in the form of a loan and allows the customer of your store to pay for the ordered products in the amount from PLN 100 to PLN 2000 within 30 days.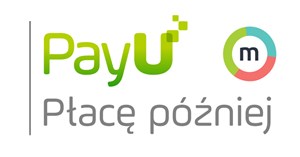 It is worth to enable the PayU service "Pay later" in your store right now. This way, you will allow customers of your store to pay in instalments. It will be definitely favourable for them, they will also be able to afford more expenses than before, which will increase the basket value in your store.
The loan is provided with a minimum of formalities and with a very simple and quick confirmation by means of an SMS code.
With the PayU "Pay later" you can allow customers to easily return products and pay only for the ones they want to keep
The advantage of PayU "Pay later" should be appreciated by, e.g. fashion stores. It is possible to partially refund the amount of the order if the customer returned the products. Such a refund then reduces the amount of "indebtedness", which is why there is nothing preventing you from, e.g. allowing your customers to order clothes to try them on and finally settle the order within 30 days (or in installments) for returned clothes, using the well-known cash back.
Contact PayU now in order to activate on your PayU account a new payment method "Pay later", and then add it to your payment profile. Due to the fact that the new payment method PayU "Pay later" requires prior activation by PayU support, it will not be automatically displayed in your payment profiles, despite the option "Add new payment methods managed by this system automatically".