Work of a fashion designer requires great creativity, a unique idea for your own brand and something characteristic that will help you to make a positive first impression and, as we well know, it plays an extremely important role in the process of building a brand image. Sylwia Majdan, who is extremely successful in an offline fashion world, decided to bring some of her artistic sensitivity into the Internet. We can say that this goal has been achieved. SylwiaMajdan.com has every element of a great online store - it is neat, unique and perfectly adjusted to the fashion industry. Why not come and have a look for yourself?
SylwiaMajdan.com can be treated as a comprehensive news service, as it is not limited to the shop offer only. The service is divided into four main sections which respectively present the designer, Sylwia Majdan, her collections, media information and the online store.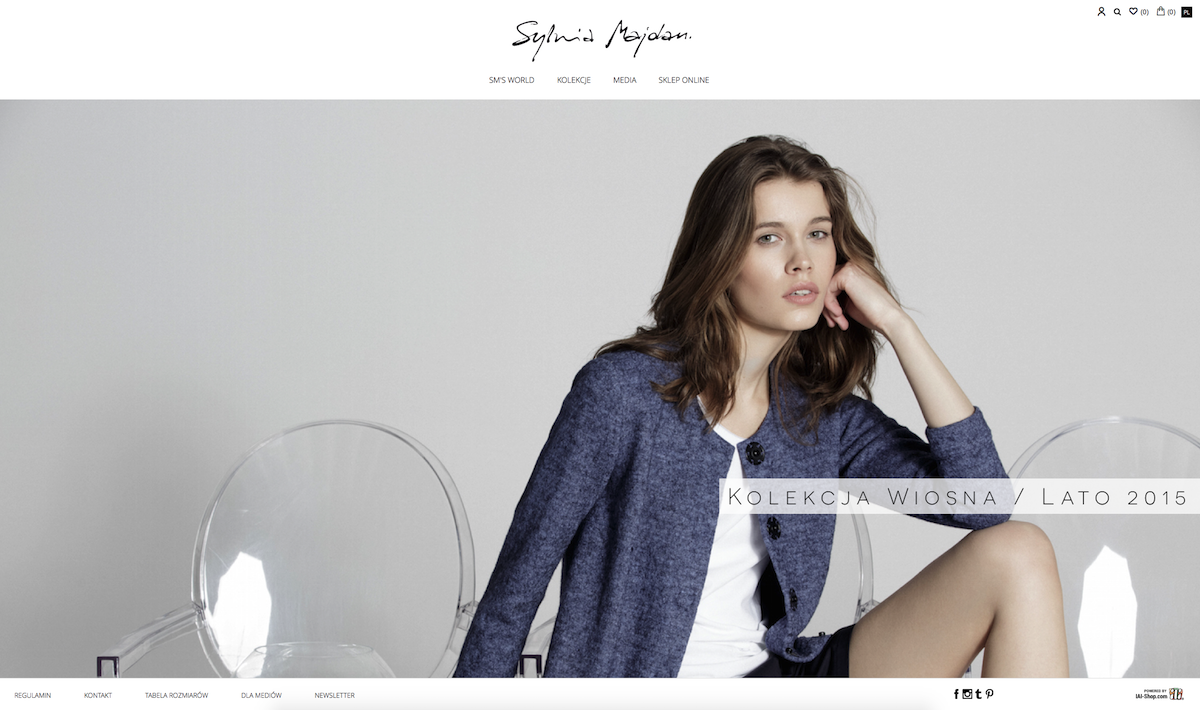 Lookbooks
The so-called lookbooks distinguish Sylwia Majdan's store and become more and more popular in the fashion industry. Lookboks mean compositions consisting of designs made by a store owner. Lookbooks present the final result - models dressed in clothes of a given brand. They help to visualise the collection. Lookbooks inspire a potential client. A given composition does not have to be imagined, as it is perfectly visible on a model - it affects emotions, which in turn leads to a positive impact on sales and brand perception.

Main page
The main page in a unique way presents all the important information related to career and offer of the shop owner. We can see a big, animated banner which always covers 100% width of the browser window. Below you can find information about the latest media events in which the designer often takes part. In the middle of the website you can have a look at the section devoted to new products and bestsellers. Products are presented in a very minimalistic, yet sophisticated way, which fits right in with current trends. At the request of the client the store was crowned with the innovative solution displaying the most recent photos posted on Instagram, which are to serve as visual news. Instagram constitute the important part of the social media - it is prefect for the fashion world, mainly as a tool for creating trends.

Product list
The entire shop section is as simple as possible. In the category, on the product list, we can see breadcrumbs only, which allow effective website navigation, setting list filtering and of course products. Changing photos after placing a mouse cursor over a given item is yet another interesting solution which facilitates browsing the offer. After the change, a given photo shows a model wearing a particular product or the back of the product and available sizes.

Product card
Product card is coherent with the style of the entire shop. To obtain additional information about a product, simply click on the DESCRIPTION. After performing this action, you will see a desired content. You can get to the size chart in the same way. What is more, the shop suggests which products could interest us. An Add to Wishlist button places a piece of clothing in the favorites and thus, as a shop client you can always return to it without having to browse the whole offer from the beginning.

Interview with Sylwia Maidan
IdoSell: Sylwia Majdan has developed a strong position in the fashion industry. What is your idea for the presence in the Internet and thus increasing brand awareness in this area? Are you guided by your intuition or by the experience gained in the past?
Sylwia Majdan: First of all, I am the observer of what is happening in the Internet and how people are communicating with each other. Communication between the brand and the recipient, so client or a potential client, must be very strong. Once the connection is strong, the brand awareness, its perception and brand loyalty, increases. All well-used communication channels can be helpful.
IdoSell: SylwiaMajdan.com is a responsive (RWD) online store which covers 100% width of the browser window. This technology makes it easier for your clients to use of the store and to browse lookbooks from mobile devices. I guess that you have realized how crucial mobile sultions are thanks to your clients but also your own habits. How important are tablets and smartphones in the world of fashion? Are they essential in the fashion industry?
Sylwia Majdan: Poles are starting to reach for laptops, tablets and smartphones more frequently. Nowadays you can buy clothes very quickly through the application while, for example, sitting in the bus. My clients live all over Poland, so the opportunity to purchase my collection over the Internet is very convenient and the process of handling orders is very fast. As they say "the Internet is the future." Most often we buy clothes, shoes and accessories online. I just can't ignore this fact.
IdoSell: What about Instagram? It seems that the reception of this service by the world of fashion and lifestyle was the most enthusiastic. Your store has a special integration with Instagramem. This is something new. What was the reception of this feature? We talk a lot about the use of Facebook in the promotion of e-commerce, but what do you think about the role of Instagram?
Sylwia Majdan: My clients like to know what is going on with me (laughs) and I like to share my life with the clients. Instagram is based on the image and - as we know - we women are visualizers. I often post photos of new designs and "my" women can evaluate them. Client opinions are very precious to me and help me in creating a new collection.
IdoSell: Lookbooks are a great way to present your designs on a model. I guess they are also a source of inspiration, which in effect strenghten customers desire for a given product. You use lookboks to represent a certain style which is composed of clothes of your design. What is the process of creating lookbooks and how often are they updated?
Sylwia Majdan: Lookbooks are necessary when introducing each collection. They are very helpful in my work, what is more they are also helpful for the press, contractors and of course, as you've mentioned, they are a source of inspiration for customers. Lookbooks have to be very consistent with the collection, which is why the process of creating a lookbook must be very well-thought. This process starts at the very beginning of designing a collection. Later, we are looking for the right team, namely a model, a stylist, a photographer and a writer. This is a very important aspect of creating a lookbook.
IdoSell: Preparing a product card in the online clothing store generates costs and a lot of work. While running a boutique, you are working with a living person who can be advised and at the same time presented with the current trends. How do you replace a face-to-face contact while conducting online sales?
Sylwia Majdan: One has to notice that we are learning to take part in the purchase process without the seller. It is a very convenient way of buying, especially if you know the brand. Personally, I try to replace a face-to-face contact by attaching a note with a dedication for a client or by calling to say thank you for your purchase.
IdoSell: What is the next step? Do you have a plan for the development of your business?
Sylwia Majdan: I have many plans but I don't want to reveal them yet. I'll let you know as soon as they come true (laughs).