Mobile solutions in IdoSell Shop
We always give you a choice
We give you many possibilities of supporting customers visiting your online shop from mobile devices. You can choose from the options meeting your needs, your customers, your assortment and your brand.
Classic and mobile layouts separately
Allows to apply optimal functionality separately for a classic and a mobile layout.
Allows to design functional and reach layout for a classic version without taking the restrictions of a mobile version under consideration.
It is less expensive if we apply ready-to-use template solutions.
It allows to manage configuration, content and special offers separately for the users of both pages – classic and mobile.
The system recognizes the devices and redirect users to an appropriate shop's version.
Mobile online store in IdoSell Shop.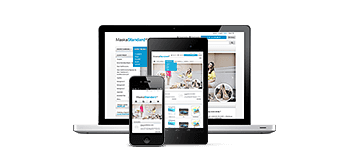 A shop using RWD
Allows to display the offer and place orders on many various devices.
It displays perfectly on screens with different widths and resolutions.
It is more expensive during the design process, modifications on demand and updates.
It does not allow to design independent functionalities for smartphones and computers. Only the layout change but the functions remain the same.
Check a standard RWD layout