| | Smart CLOUD | CLOUD | DC2 | DC4 | DC8 | DC16 | DC32 | DC64 | wiele DC64 |
| --- | --- | --- | --- | --- | --- | --- | --- | --- | --- |
| IdoSell Shop software | | | | | | | | | |
| Free handler support | | | | | | | | | |
| Hosting services | | | | | | | | | |
| Free updates | | | | | | | | | |
| Free nazwa.yourtechnicaldomain.com domain | | | | | | | | | |
| Unlimited number of domains assigned to on-line store | | | | | | | | | |
| Free access to Affiliate Program features | | | | | | | | | |
| Free access to all integration modules | | | | | | | | | |
| Support for many languages and currencies | | | | | | | | | |
| SSL | | | | | | | | | |
| Support for custom SSL certificates | | | | | | | | | |
| Dedicated Virtual Server | no | no | | | | | | | |
| Intelligent product recommendation system IAI RS | no | no | | | | | | | |
| tool for sending newsletters and marketing automation | | | | | | | | | |
| Monthly free data transfer cap | 30GB | 30GB | | | | | | | |
| Number of free products | | 10 000 | | | | | | | |
| Monthly number of free site visits * | | 5 000 | | | | | | | |
| Monthly number of free API Calls * * | 100 000 | 100 000 | | | | | | | |
| Number of warehouses | up to 9 | up to 9 | | | | | | | |
| Maximum number of products in a filter | 1000 | 1000 | 20000 | 20000 | 20000 | 20000 | 20000 | 20000 | 20000 |
| Maximum number of products that can be edited simultaneously with the 'group edit' functionality | 5000 | 5000 | | | | | | | |
| Maximum number of values for each product parameter | 250 | 250 | 500 | 500 | 500 | 500 | 500 | 500 | 500 |
| Maximum number of parameters possible to edit through the panel | 40000 | 40000 | 40000 | 40000 | 40000 | 40000 | 40000 | 40000 | 40000 |
| Photo limit on the product card | do 20 | do 20 | do 99 | do 99 | do 99 | do 99 | do 99 | do 99 | do 99 |
| Maximal recommended number of orders per month | n/a | n/a | 4500 | 9000 | 18000 | 36000 | 72000 | 144000 | n/a |
| Data storage space | 10 GB | 10 GB | 100 GB | 100 GB | 100 GB | 100 GB | 100 GB | 100 GB | 100 GB |
| The surcharge for additional 1GB of disk space, above the disk space limit | £0,65 / 0,75€/$0,95 | £0,65 / 0,75€/$0,95 | £0,65 / 0,75€/$0,95 | £0,65 / 0,75€/$0,95 | £0,65 / 0,75€/$0,95 | £0,65 / 0,75€/$0,95 | £0,65 / 0,75€/$0,95 | £0,65 / 0,75€/$0,95 | £0,65 / 0,75€/$0,95 |
| Charge for extra data transfer exceeding the monthly limit | £0.13 / 0.15€/1GB | £0.13 / 0.15€/1GB | n/a | n/a | n/a | n/a | n/a | n/a | n/a |
| Charge for additional number of listed products | n/a | £3 / 4€/$5 | n/a | n/a | n/a | n/a | n/a | n/a | n/a |
| Charge for extra site visits over the monthly free limit * | n/a | £4 / 5€/ $6 / 1000 | n/a | n/a | n/a | n/a | n/a | n/a | n/a |
| Charge for extra API Calls over the monthly free limit ** | £2.5 / 3€/ $4 / 10000 | £2.5 / 3€/ $4 / 10000 | n/a | n/a | n/a | n/a | n/a | n/a | n/a |
| Number of CPU cores | n/a | n/a | 2 | 4 | 8 | 16 | 32 | 64 | multiple x 64 |
| RAM | n/a | n/a | 8 GB | 16 GB | 32 GB | 64 GB | 128 GB | 256 GB | multiple x 256 GB |
| Monthly fee with technical support in English | 1.5% on sales, no less than €19 | €69 | €399 | €599 | €879 | €1349 | €2209 | €3479 | please contact us |
Comparison of IdoSell Shop plan Smart CLOUD, CLOUD and DEDICATED CLOUD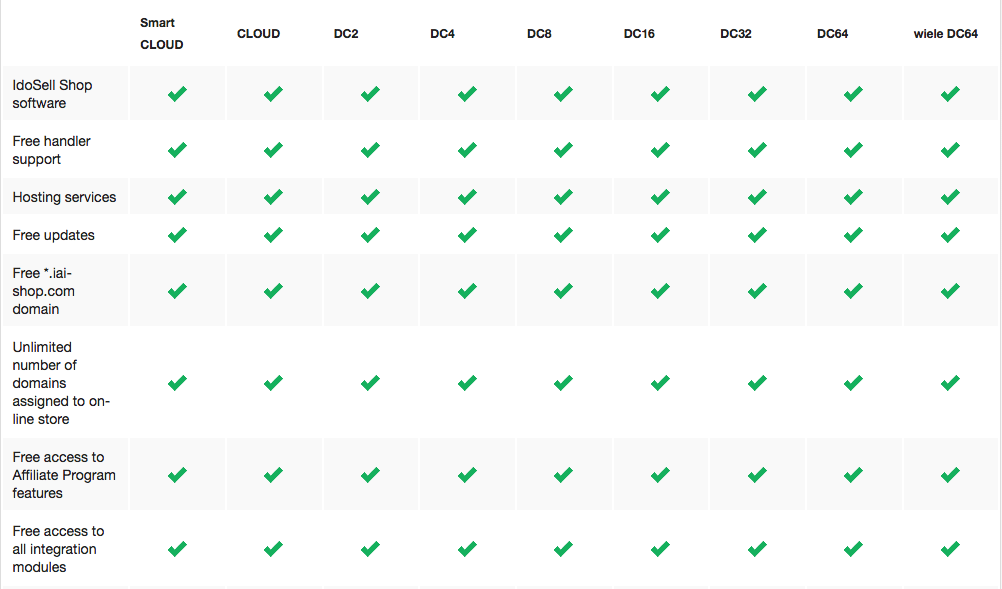 *A site visit is a registered connection with the Service which can include viewing of multiple pages over a span of one hour, for one IP address . It is calculated based on web server logs. Visits are also calculated for each order placed via marketplaces (e.g. eBay), or Amazon - 1 order = 20 visits.
*An API call is a web request sent to our open programming interface. It is normally used by external programs communicating with our service.
The table presents a comparison of selected subscription plans.
Detailed information about the provided services, their prices and all additional charges is available in Idosell Shop's Detailed Price List.
The Detailed Price List is the basis for all settlements.
All prices provided are net and exclude the relevant statutory value-added tax (VAT).
The main idea of CLOUD is to offer our clients the lowest possible minimal price while taking into consideration the system capabilities. In reality, it means that shops running in the CLOUD subscription plan are grouped together and placed on a server with processing power comparable to DEDICATED CLOUD 8 or 16. Some clients inside such a group can generate a lot of traffic while other close none and vice versa, depending on various conditions. We monitor all usage and are able to statistically estimate average server loads. While it allows us to predict hardware requirements and act accordingly, it is still possible one shop's traffic impacts another one's performance, under extreme circumstances.
DEDICATED CLOUD offers full isolation from other clients' activity. Shops running under such a plan are placed in fully separated environments with dedicated amount of CPU cores, RAM and individual storage. If you would like to ensure your shop's performance is in no way affected by the activity of others, choose DEDICATED CLOUD.
Of course we constantly monitor our servers, as we want to ensure the highest possible availability level. When a given client constantly exceeds planned usage levels, we usually offer the following solutions: migrating to a dedicated server (DEDICATED CLOUD), increasing the computing power of a shared server to an adequate level or migrating clients who generate the heavy load to a new, shared server.