Dropshipping wholesale store - ready to use IdoSell Shop solutions
Your IdoSell wholesale store is ready for sending dropshipping orders. In our solutions, we focus on automating repetitive actions in dropshipping. Warehouse workers will not have to manually enter orders from stores into the warehouse system and verify their correctness.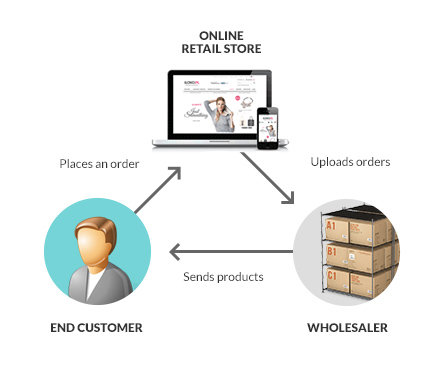 How to prepare IdoSell wholesale store for accepting dropshipping orders from other IdoSell stores?
Every wholesale and retail IdoSell shop cooperate with each other in such a way that the store simply uploads its orders to the warehouse system. From the point of view of the wholesale store, orders appear on the list to be handled, just like regular orders in the online store. Such orders have a complete set of information about products, shipping address and courier. This is a big help in comparison to traditional e-mail and telephone orders often found in this model, which which had to be entered to the system manually.
So, if you are the owner of the IdoSell wholesale store, it means that you already have a built-in support for dropshipping orders and can communicate automatically with stores based on IdoSell Shop - the only thing you have to do is activate dropshipping.
How to prepare system of any wholesale store for accepting dropshipping orders from IdoSell stores?
Each wholesaler in the world can provide dropshipping services to thousands of stores using IdoSell Shop, and this is because our online stores are prepared to provide information about dropshipping orders in the CDF format. It is an open format that accepts CustomerAPI - API for exchanging data about dropshipping orders. It is enough to implement CustomerAPI in a wholesale store to become a supplier for all IdoSell shops.
Taking dropshipping orders in a wholesale store is offered in two modes:

basic - through a set of AJAX endpoints, which enable:
checking whether a wholesale store has products ordered by customers in stock
uploading products to a wholesale store basket
placing orders with the indicating shipping address

advanced - through CustomerAPI-ICDF dedicated to dropshipping, which apart from the full functionality of API gateways enables:
check if the warehouse has ordered products in stock
upload products to the wholesale basket
place orders with an indication of the address for shipment and transfer of additional documents for printing (e.g. discounts)
download a list of couriers offered by the wholesaler
inquire about the status of store orders in the warehouse
modify and manage address data of these customers, which the store has transferred to the warehouse
No matter the preferred communication method, the wholesaler receives ICDF formatted XML data. It includes all information necessary for processing dropshipping orders.
Implementing the processes around dropshipping that suit your business requires some knowledge about web services. You can do everything yourself, useful information can be found on: Internet Cross-docking and Dropshipping Format (ICDF). We can also help you prepare the integration, or even create entirely custom logic - contact the support department if you would like to discuss the possibilities.
How to prepare an IdoSell wholesale store for accepting dropshipping orders from online stores based on any software?
Your wholesale store in IdoSell Shop has CustomerAPI, so it can accept dropshipping orders from any online store. It is enough for such a store to adapt to the open format accepted by CustomerAPI in accordance with CustomerAPI documentation.
Administration panel configuration - dropshipping
If you want to conduct sales in the dropshipping model, you just need to follow a few steps. If you want to learn more, just go to: How to enable dropshipping in your wholesale storei