Internet Offer Format technical specification
Internet Offer Format is an XML standard for product data exchange between online stores. It is provided under the Creative Commons license, thus it can be used both in IdoSell Shop online stores as well as external systems.
File structure description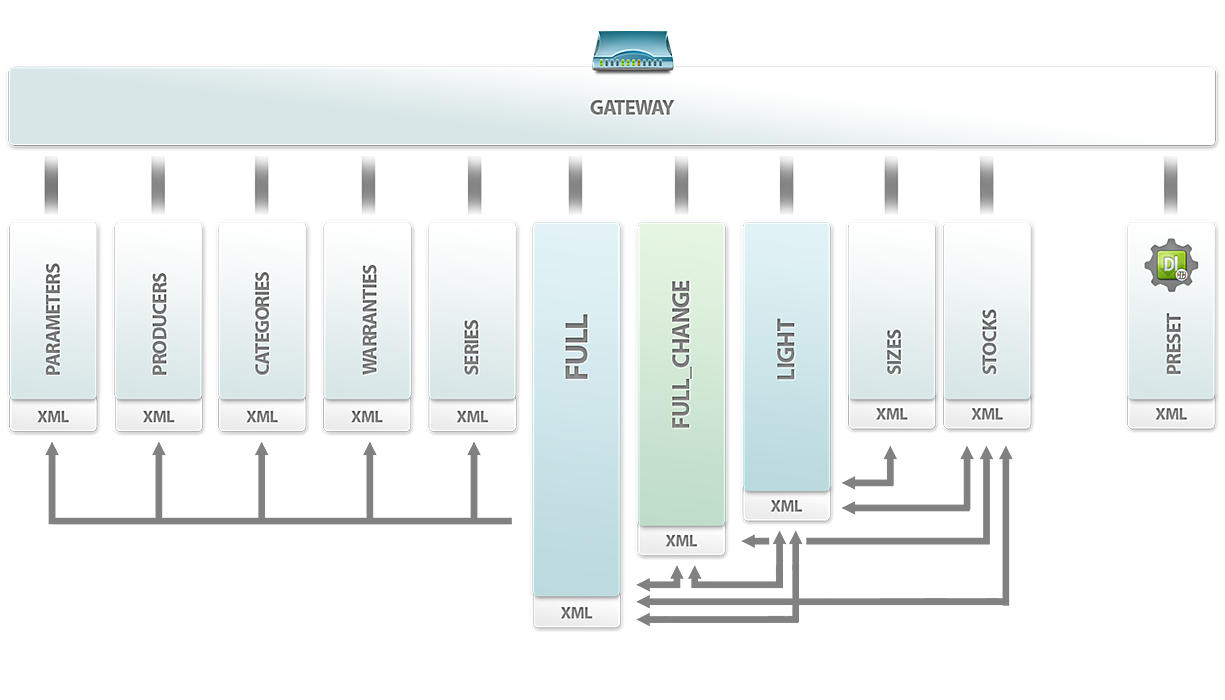 gateway.xml is the base file of the structure. It contains supplier information as well as links to other files.
The mail offer file is full.xml. It contains full product information such as descriptions, pictures, parameters, or attachments.
light.xml is the next file related to the offer, which contains information about product sizes, stock levels, prices, system codes, etc.
The sizes.xml, series.xml, warranties.xml, categories.xml, producers.xml, parameters.xml files are additional files, strictly related to the two main offer files. They contain multi-language product data.
stocks.xml contains information about warehouses storing products on offer
preset.xml holds information about offer configuration used by processing applications, e.g. IAI Downloader.
The file structure can be used for both small and large product bases, offers can include:
product descriptions in multiple languages
prices in multiple currencies
stock levels set individually per warehouse
product pictures and icons in multiple resolutions
product parameters, categories, sizes, warranties in multiple languages
suggested and strikethrough prices for individual shops
Reduce server load and save bandwidth
When creating custom applications that integrate with IdoSell Shop, take care to utilise checksums for pictures and icons so that only the elements that were modified since the last synchronization are sent to the API - this will reduce unnecessary server load and speed up the synchronization process.
Make sure that correct creation dates are used for IOF files, especially the main gateway.xml in order to save transfer and processing power.
Pick the integration method right for you
If you are a wholesaler / supplier and would like to make your product offer available to other stores you can use IOF as the basis for data exchange, simply prepare your offer according to the specification
If you receive an offer from external suppliers, make use of the right tools to transform the received XML documents to match your store's requirements
Technical specification
You can read the full technical specification of the Internet Offer Format by downloading the documents below.