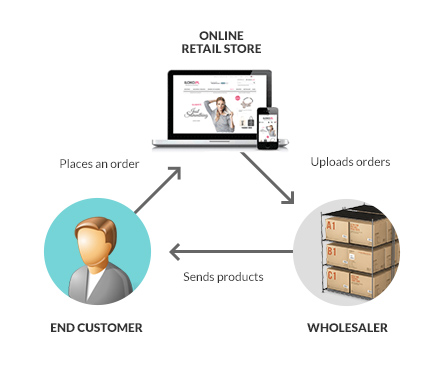 Dropshipping is a sales model that lets you conduct online sales without the need to own warehousing space. Products ordered in your store are supplied by external wholesalers, who process and send orders directly to your customers. You charge the customer, the external supplier charges you and the difference between the two transactions is your profit. You are responsible for attracting customers, international sales and marketing. External suppliers manage warehousing, logistics and ship orders to end customers.
Advantages for online shop owners:

you do not have keep products in stock yourself


all you need to do to conduct your business is laptop and access to the internet


shipping is outsourced to external suppliers, while you can focus on increasing sales


ordering handling is minimal on your part. A customer places an order and pays for it. The order is transferred to an external suppliers which ships the required products to the end customer


Your profit is the difference between the price of products at the supplier and the price you offer in your online store
Advantages for online wholesalers and product manufacturers:

you can concentrate on logistics, since you take care of warehousing and shipping. The network of your distributors is responsible for sales and marketing


once created, the distributor network generates long term profits,


you can use a STANDARD B2B template in your online store,


distributors upload orders to your system electronically. Orders appear on the list of orders to be handled. You can manage supplies and warehousing easily, if current information about who needs what is transferred – this in turn enables bigger product turnover.


as a large wholesale company you can take advantage of ready to use Dropshipping Cloud™, where you will be directly integrated with online stores
Target
Dropshipping is an effective and scalable solution for new businesses which would like to quickly verify which assortment will be the most popular among target customer groups, while avoiding the need for initial investments into stock and warehousing space.
Dropshipping is also recommended for already existing stores that wish to expand their assortment.When offering a varied assortment of products it is important to keep in mind your customer preferences. To make shopping easier for customers consider using the multishop functionality which lets you manage multiple shops in a single administration panel.
Dropshipping is very useful in case of large products such as furniture, household articles or products of a bigger value. Dropshipping as a supply chain management model is be often seen in such businesses that offer clothing, toys, electronics, sports equipment, etc.
Things worth remembering
When you decide on dropshipping, you need to be careful when choosing your suppliers, as they are responsible for product delivery and, ultimately, your brand image depends on their performance. It is worth to remember about setting terms and conditions with your suppliers concerning the use of advertising materials for your shipments. Some suppliers enable labelling shipments with your images and can add your leaflets, name cards, or discount codes.
If you can cooperate with a supplier, it often means that other shops (your competitors) can too, which can lead to price wars. This lets you influence the market and product quality, which is why it is often recommended to make use of dropshipping, even if it is only partial to your overall business.
Summary
More and more wholesale stores with different business types offer varied assortment. Wholesale and retail stores, thanks to ecommerce, do not have any territorial limitations. Big wholesalers often offer competetive shipping terms, thanks to economies of scale, which in turn allows online distributors to make their offers more attractive. Distributors have unlimited access to products, increase their competitive advantage and save a lot of time. Dropshipping and cross-docking sales can make running an online ecommerce business easier and make it more flexible.
Distributors can cooperate with different suppliers, without the need for large upfront costs. Suppliers in turn increase product sales thanks to an advanced network of distributors. As a professional solution for retail and online wholesale stores, IdoSell Shop supports dropshipping and cross-docking sales models by offering process automation solutions, or comprehensive Dropshipping Cloud™ ecosystem for large dropshipping whosalers.