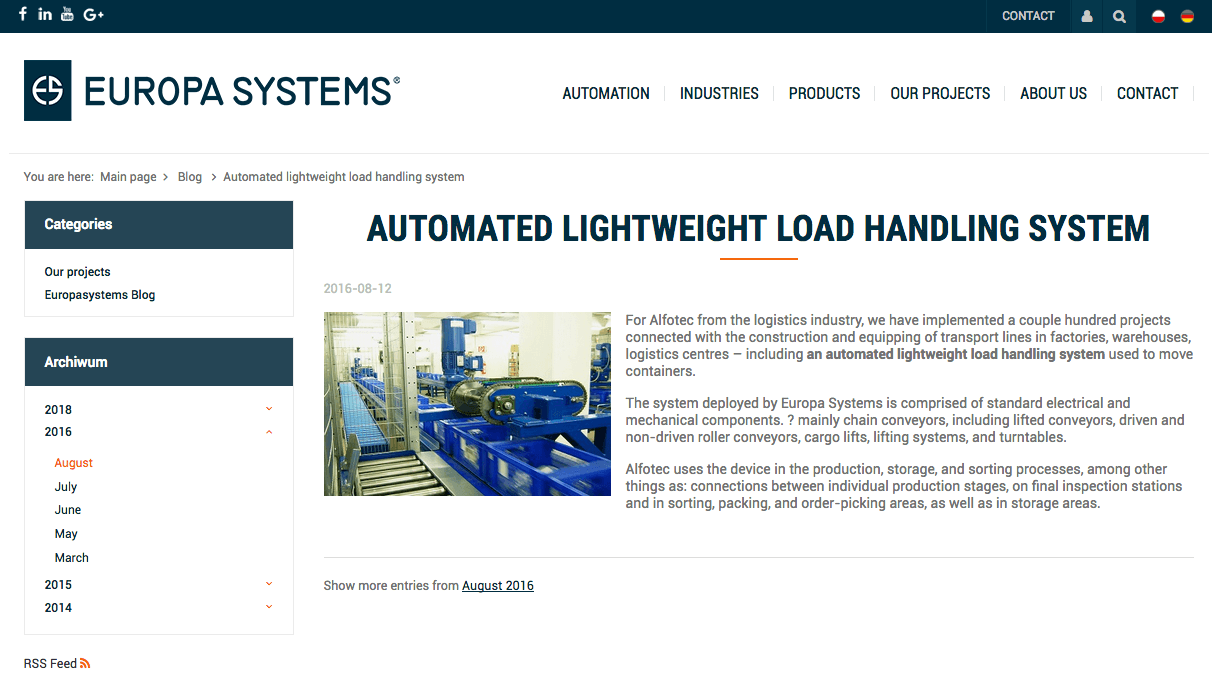 Europa Systems is a leading European producer and integrator of automated systems and intralogistic devices that are used in production plants, warehouses and distribution centers. The company runs international sales on a global scale, and its online store connected with the Catalog is available in 3 language versions: Polish, German and English. The company's products are highly advanced technologies, tailor-made systems as well as components such as transport rollers and conveyors, or standard "run & go" devices ready for installation, such as automatic pallet storage.
The clear contact form facilitates communication and pre-selects communication channels and is consistent with GDPR.
The main purpose of the Europa Systems website is getting sales leads for systems, which was possible thanks to the good information architecture. On the site you will find several different forms (from premium materials, to "callback" through the contact form with the choice of department and subject matter). Forms for Europa Systems have been individually designed and integrated with the SalesManago system. Contacts acquired automatically with specific tags are saved in the SalesManago database, and automatically from the IdoSell Shop platform an email is sent to various mailboxes defined at the form level for individual departments of Europa Systems. We wanted solutions which improve contact with a potential client, speed up responses to questions, so that in the shortest time the right ES Sales Engineer from a specific market, responsible for a specific product group, makes contact.' Says Ilona Miziewicz - Groszczyk, Marketing and Business Development Director at Europa Systems.
An example of using a multi order form immediately for the entire range of products, e.g. in sizes or variants
Europa Systems operates in a B2B sector, the average order value (AOV) is around 30,000. euro, such an offer is hard to sell in the online store, but store may be a perfect "magnet" in activities related to product positioning, which are not sold via the Internet channel. The store's offer, or "products with prices", generates organic traffic and sells "products without prices". However, selling in the online store is not the main goal - generating leads for system sales is, that's why online store based on the product catalog combined with the online store works very well in our company - says Ilona Miziewicz-Groszczyk, Marketing and Business Development Director at Europa Systems.
Example of using a product tab as a catalog tab that allows you to call an immediate contact
I treat the service as one entity, both information pages, forms on CMS pages and Catalog store. An undoubted advantage is that we have connected these two types of pages into one organism, thanks to which the user moves intuitively throughout the entire site. Usability of the site is excellent. For Back Office, the great feature is that they can add new products easily and intuitively, create new product groups and update the current offer. In the future, the next step will be the full automation of the offer with our ERP system, creating configurator of products - a marketplace for engineers - says Ilona Miziewicz - Groszczyk, Marketing and Business Development Director at Europa Systems
Example of using a blog as a balanced information carrier on implementations which builds customer trust
Do you want to learn more?