In IdoSell Shop, on a daily basis, we handle hundreds of thousands of on-line orders generated by thousands of our clients. Everything that we describe in this section really influences the Polish and the Global e-market.
Product blog - IdoSell Shop online stores (September 2018)
---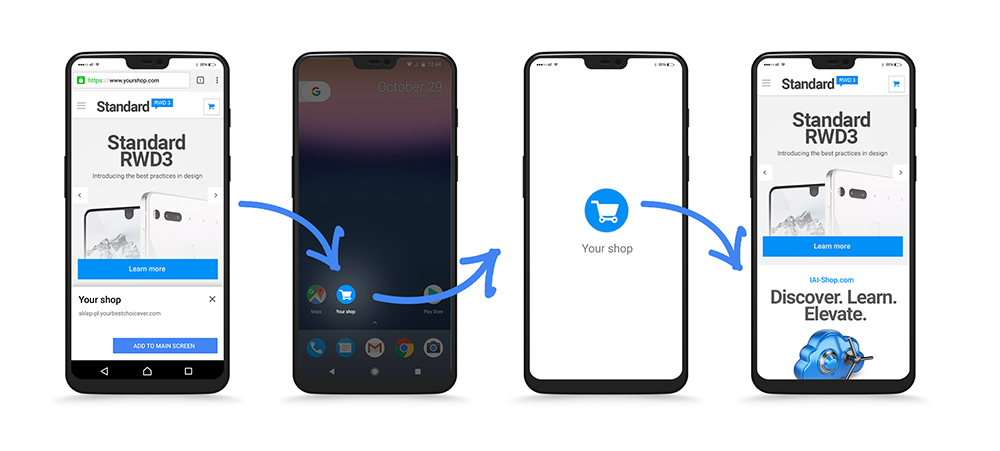 28 September
Your store is now available on all mobile devices as a progressive web application (PWA)
Mobile devices accompany us in everyday life. In the modern world, shopping processes take place in '''any place and at any time''': during a break at work or while waiting for a bus. In order to make it easier for your clients to access your product offer, we focus on the ability and convenience of using smartphones, which with each year gain new opportunities and are an inseparable element of our life.
more
---
24 September
We have added the ability of setting the maximum cart value, above which the discount will not be activated and an indication of product groups that will not be taken into account when calculating the value of the cart.
Modules of discount campaigns and individual discounts have been enriched with new settings, thanks to which you can adjust them even better to your needs. Now, in addition to the minimum cart value, upon which the discount is activated, you can also apply the maximum products value in the cart after exceeding which the discount will no longer work. What is more, you can also indicate products assigned to special zones, which will not be included in the calculation of this value.
more
10 September
Your store is always protected! The subscription price includes a Commercial Wildcard SSL certificate for all domains assigned to the store in IdoSell Shop
From August 1, your store receives an automatically generated Commercial Wildcard SSL certificate for every domain added in the IdoSell Shop administration panel. This certificate covers not only the main domain, but also all subdomains (*.domain.com). Issuing certificates for domains is completely automatic, ensuring the continuity of certificates.
more
---
5 September
A brand-new electronic document creator allows you to automatically sign a contract, contract assignment or contract termination via the CSC
Customer satisfaction is our top priority. That's why we decided to create a dedicated tool to minimize paperwork and speed up the process of verifying contracts, assignments and contract terminations. Every client can generate and electronically sign all necessary documents in few easy steps.
more