23 August 2017
IAI S.A. and ABC Data S.A. cooperation
By supporting dropshipping, wholesalers and distributors face problems with reseller integration. Of course, these are usually issues of inventory mismatch or loss of order or customer information. These usually end up in unpleasant communication with the consumer and finally - a refund. But with a huge network of resellers, as it is with ABC Data S.A., there are also purely organizational and technical problems. Resellers have softwares of different manufacturers and different versions, not all of them have the resources to upgrade their soft, not all can handle the new API, every new feature take a long time to implement and it is difficult to manage such a sales channel. The costs of implementing of new features are high and it takes a lot of time.
In the Dropshipping Cloud by IdoSell Shop, it simply disappears, because it is replaced by one solution for all resellers. This is a dedicated solution for all dropshipping and SaaS-based platforms. Using our experience, in close cooperation with ABC Data S.A., we have created a complete ecosystem that fully automates the process of handling wholesalers, sellers, couriers and final product recipients. With the licensing model of a dropshipping cloud, wholesalers can buy packages of shop panels at very attractive prices, which they then pass on to their resellers. For example: selected retailers of a given warehouse receive a fully prepared professional online store, without subscription fees. An additional advantage of this solution is that the stores that are based on cooperation with their wholesalers have a full access to all functions and capabilities , trainings, turnkey implementations prepared within standard activities of IdoSell Shop.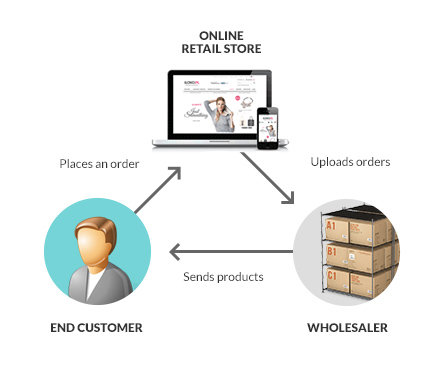 As a result, wholesalers who want to support their resellers receive a unique, ready-to-use solution to handle their resellers. Shops gain, among others, full live access directly to wholesaler stock levels, so that when placing an order a wholesaler, a store and a customer, are fully aware of the availability of the item. Thanks to the very advanced integration based on ICDF and IOF formats, the shop knows what is available in a given warehouse. It has information on the most current price. Everything works automatically, so globally. Changing descriptions or photos happens automatically in any store.
This tool allows you to quickly and seamlessly create and set up an online store that is fully integrated with ABC Data. At the same time, it retains all the features of an autonomous, professional system. Products from the ABC Data offer, ordered by the store running on the basis of the Reseller Web program are sent directly to reseller end customers (dropshipping). The delivery of products is carried out by a proven carrier, which guarantees the highest level of service - states the press release of ABC Data S.A. We believe that investing in e-commerce platform will bring tangible benefits to both ABC Data and our partners who will be able to tailor their business to new trends and market challenges - said Andrzej Kuźniak, Vice President of the ABC Data S.A. Management Board
Launching a platform is of particular importance to us not only in terms of business - it is symbolic. It shows how profound and long-term changes happen in the industry. More and more customers are interested in digital products. We provide a tool with a range of functionalities and freedom to build relationships with clients - said Ilona Weiss, CEO of ABC Data S.A. in the interview with Money.pl. The new release of Reseller Web, enabling easy e-shop launch, has been redesigned and based on a technologically advanced engine in collaboration with IdoSell, a leading e-commerce solutions company.
ABC Data SA operates in Central and Eastern Europe, supporting more than 13,000 resellers from 8 countries, sending over 5,000 packages a day. Distributor's portfolio features brands such as Acer, Toshiba, Lenovo and Apple.