If you are interested in advanced capabilities of online stores such as text search, filtering, collections or multivariants, without the ability to place orders, we have a ready to use solution for you.
STANDARD Catalog template is an interactive online portfolio in the form of an expanded catalog of products or services. It is dedicated to manufacturers, distributors and suppliers who are keen on professional presentation of their products and services, without the ability to place orders through an online shop . In spite of the lack of purchasing options, your customers may file a complaint of their purchase by RMA module, and available blog and news module successfully replace CMS to create company pages.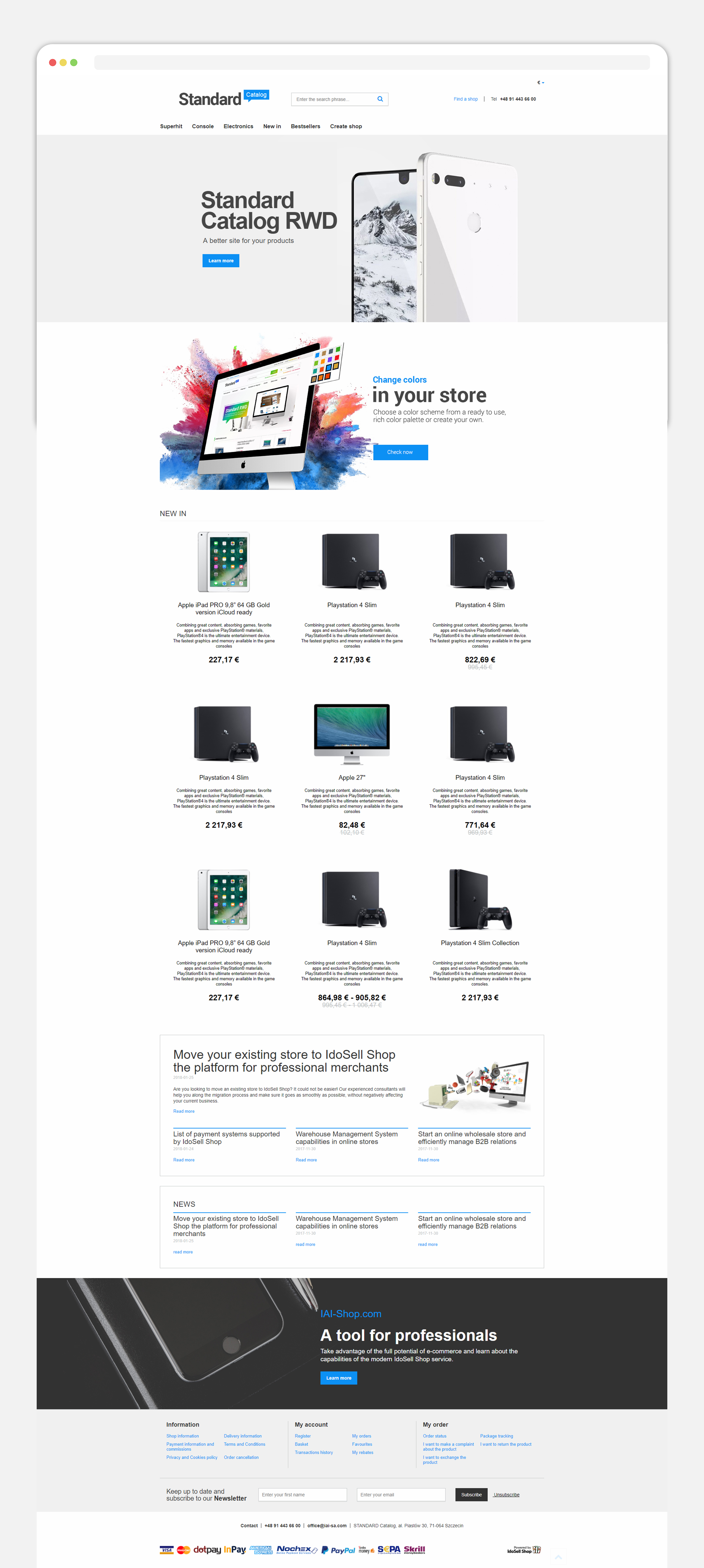 STANDARD Catalog template characteristics
The STANDARD Catalog template is a unique graphic template, without the ability to place orders. There is no basket and sub-pages for choosing delivery and payment forms. If you are a manufacturer or distributor and would like to present your product offer, but do not want to carry out shipping and do not want your customers to orderproducts - choose the STANDARD Catalog template. Although the online store using the STANDARD Catalog will not accept orders from customers, the shop can add orders in the administration panel. Customers can follow the progress of handling the order. In addition, features such as filing complaints, comparing products or adding products to favorites still remain active and are at your and your customers' disposal.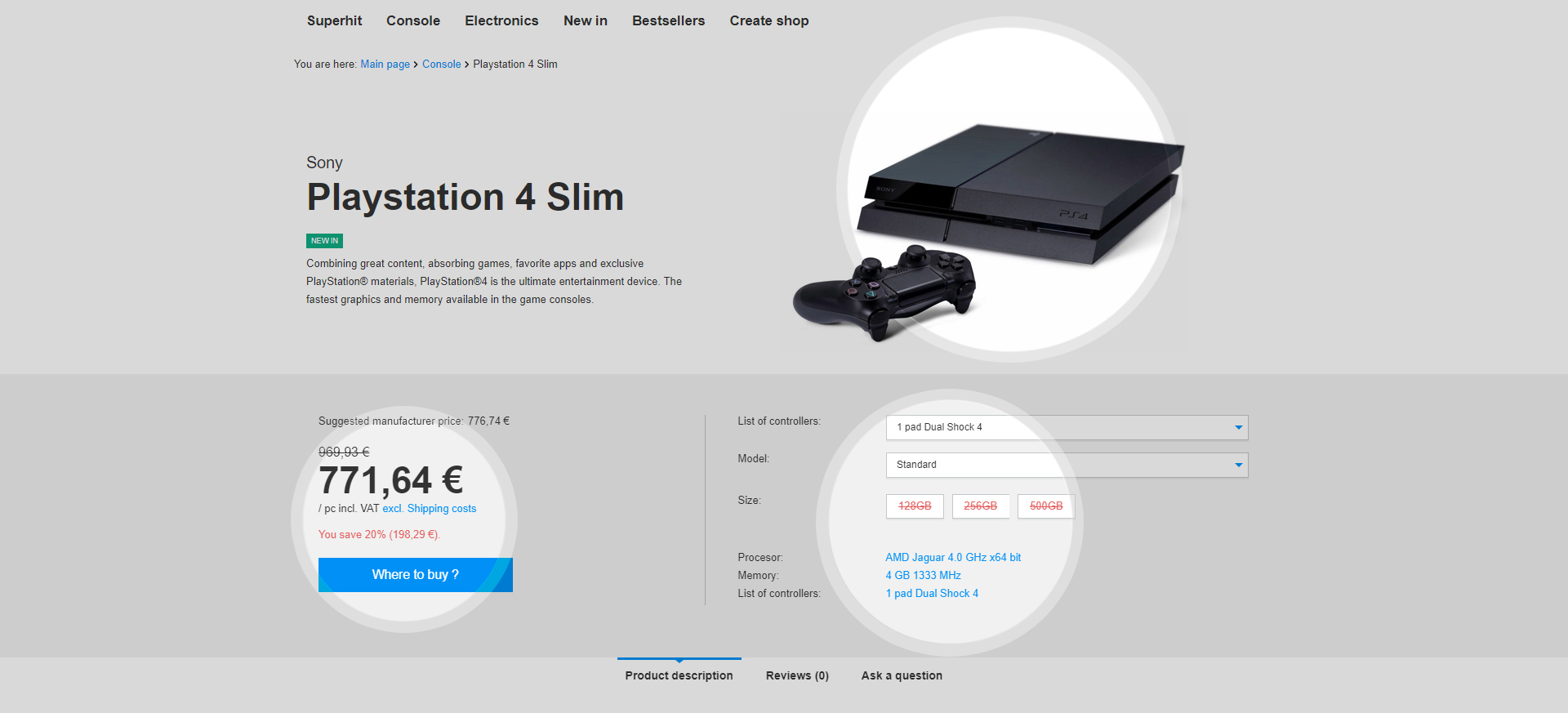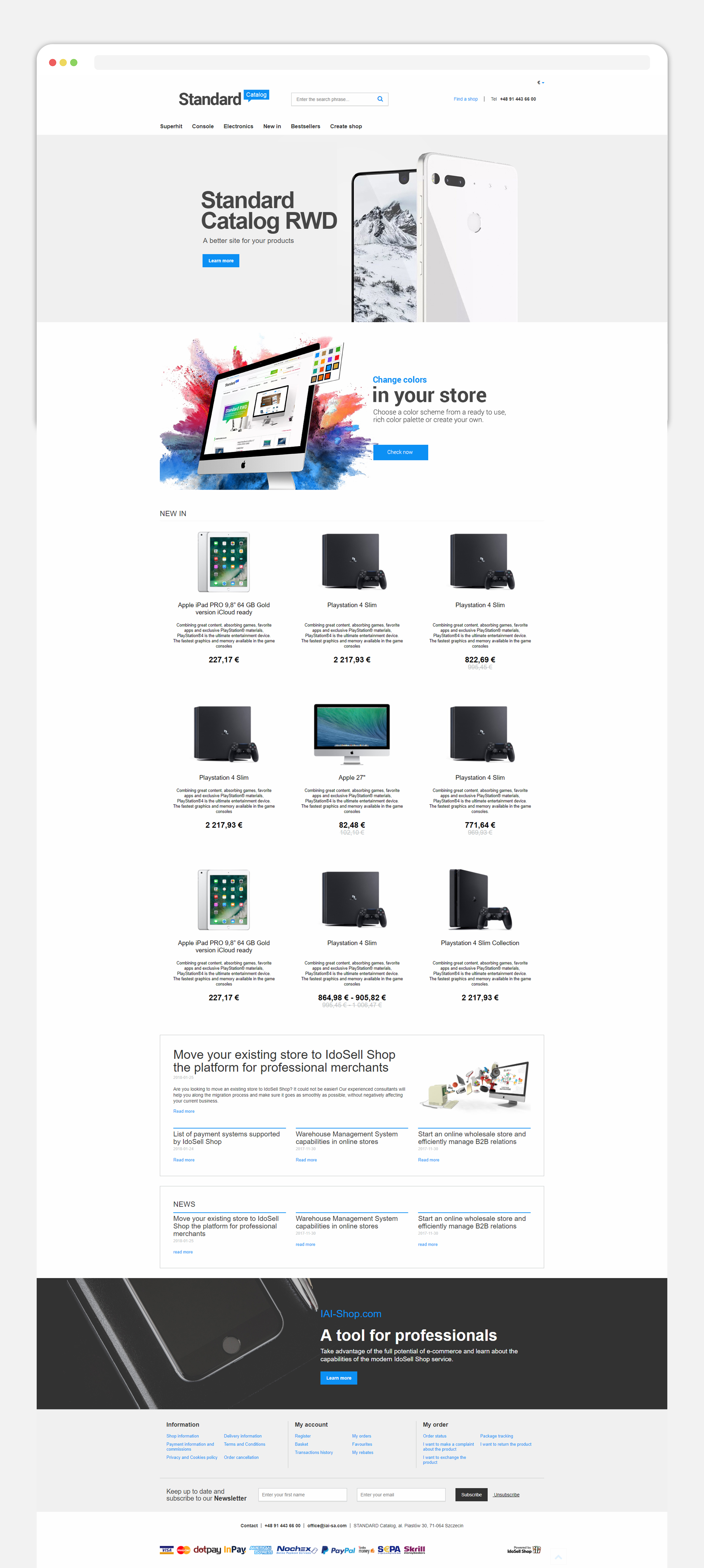 Key features of the STANDARD Catalog template
• No purchasing of products;
• No pages and functions related to the basket and the ordering process;
• Active registration and login tools for clients;
• Complete handling of the order added on the administration panel;
• Payment via electronic payment channels;
• Ability to track order status;
• Access to PDF documents generated for the order;
Active complaint module (RMA) - complaints may be filed directly on
the website after logging in;
• Supports up to five freely customizable menus, including two multi-level
navigation menus - one in the left column, the other in the top bar;
• Two views of the list of searched goods - the customer chooses the way the offer
is presented;
• Gallery mode - icons and producuts names arranged in rows and columns;
• Detailed mode - additional information arranged in rows;
• Filtering the list of products - allows to make criteria more precise
of searching and find specific items. The number and type of filters are determined by the customer service;
• Products comparison - it allows to pick up several products and conveniently
compare their descriptions;
• Installment calculators - customers can simulate their own installment purchases through
integrated calculators of popular banks.

Do you have more requirements considering look or functionality of your store? As our customer you now can use a template that is the starting point for your individual project for a catalog of products or services. During the implementation of the STANDARD Catalog template in the online store it will no longer be necessary to come up with the basics of how such online store should work and what elements it should contain. Just start with a ready, verified pattern and make only those modifications that will bring it closer to your needs, whether in terms of style and color, or functions and placement of elements. Any change in the appearance or adding additional functionalities can be discussed and commissioned to our graphic department. Thanks to the excellent knowledge of the system, our specialists will take care of correct and trouble-free implementation.