No matter if you already conduct sales on eBay or you are just preparing yourself to do that – our auction shops are a perfect complementary tool for the marketplace itself.
Enable your eBay clients to choose size, color or any other features of products which they purchase.
Thanks to our auction shop, you can present developed functionality of your products, as well as a wide choice of colors, variants, sizes, versions, easily - and more importantly - in accordance with terms and conditions of the marketplace. You can also add additional downloadable attachments to products or, for example, music samples, video presentations etc.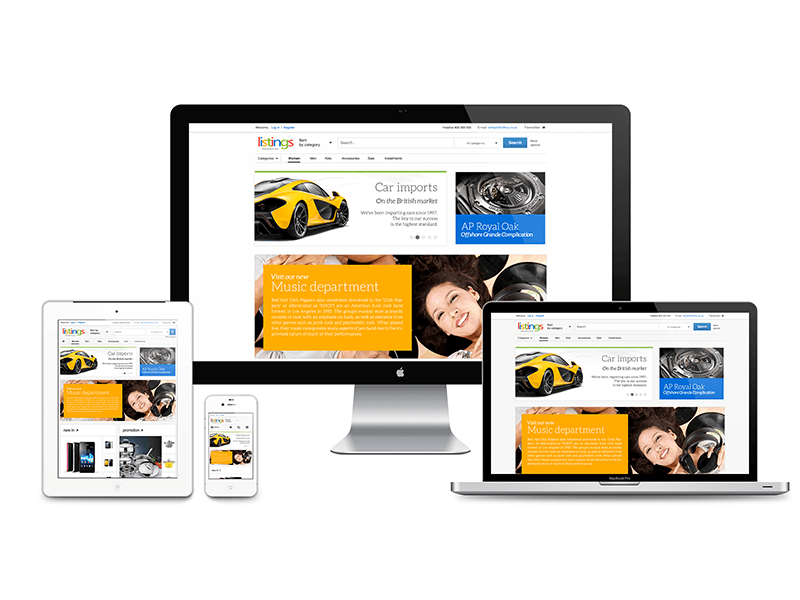 Auction shop requires preparing a special shop front which will present the clients with your offer in a modern and eye-catching way. STANDARD RWD eBay is a free, clean, ready-to-use layout available to all of our clients in every auction shop. The design of this shop front is closely related to eBay itself. It enables you to increase a trust level of your clients, as the auction shop is coherent with eBay and leads the client directly to products which are put up for auctions in this marketplace.
STANDARD RWD eBay shop front can be used only in the auction shop. It results from special changes introduced in a shop structure which adjust the layout to this kind of shop. If you wish to know more about auction shops visit a main page of this section.
On the basis of STANDARD RWD eBay, our highly qualified graphics department can create an individual shop front design which is in compliance with your guidelines and your brand image on eBay. Contact us to order the individual shop front of your auction shop.
The design and the most interesting functions and elements of eBay shop front can be found below
Main page:

Product list:

Product card:

STANDARD RWD eBay shop front is responsive
A responsive shop front means that if a client would like to do shopping via smartphone, tablet, notebook or a computer with a big screen, your website looks perfect on any given device. The website automatically adjusts its width and elements arrangement in a way which attractively presents the content, at the same time reducing the need to scroll the page to the minimum . Four different widths, coherent with the generally used responsive standards, were encoded in the shop front.
A gallery of eBay shop front adjusted to different screen widths can be found below