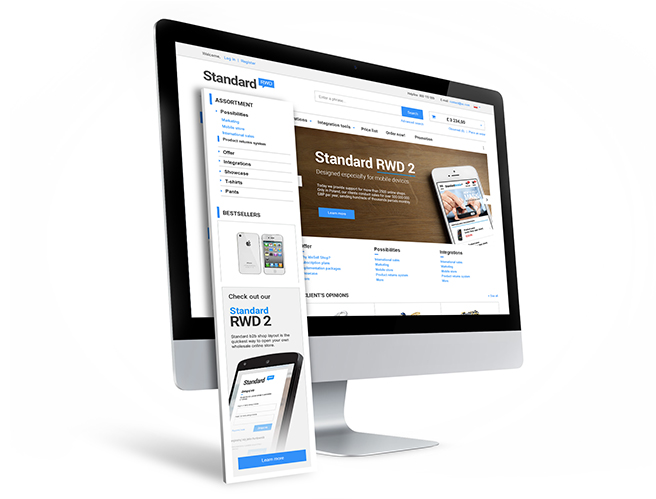 STANDARD RWD 2 features
Minimalist graphics and spacious layouts are becoming a popular trend in online stores. Stores with a simple navigation, narrow product range and a few categories can find such style perfect for their needs. Multi-trade and specialist online stores, as well as ones having a wide category tree, need more space for presentation of the most important elements in order to provide an easy and efficient way for their customers to find products and do some shopping, namely the menu. STANDARD RWD 2 template is our response to the needs of such stores.
The STANDARD RWD 2 template has a fixed column on the left. It solves the problem of insufficient space for a large category tree. Unlike STANDARD RWD 1 and STANDARD Fashion, this template has a fixed left column, which can accommodate even the largest category tree. When planning the layout and functionality of your store, migrating your store from other ecommerce software or redesigning your IdoSell, always think about the size and placement of the category menu. RWD 2, as well as other STANDARD templates, is the starting point for creating individual store designs by our graphic designers. If you do not plan many main categories in your store, check out the STANDARD RWD 1 and STANDARD RWD Fashion templates.

Standard template is a starting point for the implementation of stores with a custom look and feel. You can order the colors to be adjusted according to your brand image, as well as select functions and arrangement of elements to match the type of products on offer. The cost of preparing such individual versions is calculated separately - when ordering you can opt for one of our implementation packages to make use of promotional rates.
This template is responsive (RWD). Availability on mobile devices is a must for every online store. All standard templates we offer are created in Responsive Web Design (RWD) technology - it means that they adjust their layout and size to the device on which they are displayed. STANDARD RWD 2 takes one of four widths, depending on the screen size and resolution of a customer's device. Thus, shopping is always comfortable and all information remains readable.
See how the template is displayed on different screen sizes
Available language versions



Elements characteristic for STANDARD RWD 2 – gallery
Adjusting store design to your needs
This STANDARD template is free, but please bear in mind that it is not universal. Remember that every professional online store owner should try to make his store stand our from the rest. Therefore, the layout should be tailored to the individual needs of your business and your industry. The graphical design should reflect elements of the corporate identity and functionality should the products you sell. You can commission small changes, namely a logo design, changing color themes, as well as designing information and advertising banners. You can also choose to have a thorough reconstruction of the layout and decide to plan the look and feel of the store from scratch, according to your needs. By commissioning store adjustments to our specialists, you can be sure that they will be of the highest quality, and the work will be done quickly and safely, without affecting the uptime of your store.
Learn more about changes in store design.
See how to order a comprehensive implementation of entirely custom look and feel through one of our implementation packages.
Moderation and configuration of the layout
Go to the Photos, banners, navigation menu section, to see what sizes and proportions should your images should be prepared in to best make use of STANDARD RWD 2 template. Such information is especially recommended for people using standard template and to those, who employ their own graphic designers. Customers for whom we prepare individual b2b implementations, receive full instructions on how to set elements from their template supervisor.
Gallery of three basic subpages with full available functionality
Main page

Search results
Single product card