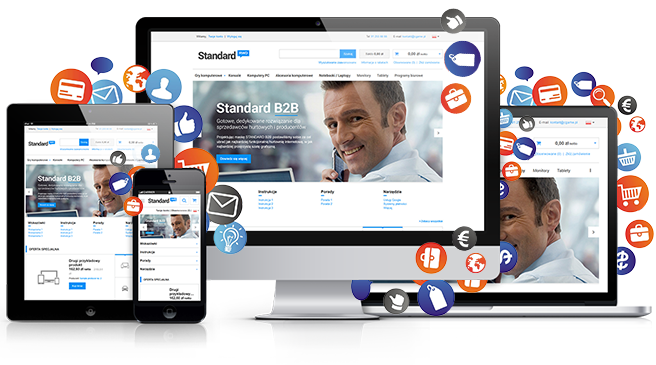 STANDARD B2B RWD characteristics
STANDARD B2B mask is the fastest way to create your own online wholesale store. It is a perfect starting point for having a fully personalized store with a wholesale offer. Within any of available implementation packages or through a separate commission to the Graphics Department, we can adjust this advanced and fully functional mask to your business.
Of course, if you do not have any special requirements concerning its personalized look, you can use it freely - just upload your logo, add some banners and other graphical elements to a ready-to-use template. Remember, it is fully functional and you can use it as long as you need.
While designing the STANDARD B2B mask, our main goal was to combine the most functional wholesale store with the most plain and clear graphics possible.
This is why, this business-to-business design is not intrusive and thus, neutral in colors - white, shades of gray and blue are dominant. It facilitates searching for information and focusing on important details. However, the most important thing is that it does not distract customer and draw away his attention from the most important things in wholesale store - products and placing orders.
Of course we have taken care of dozens facilitations and functions necessary in an online wholesale store. The list below presents the most important features:
Access to wholesale store:
Special registration form for companies.
Access to your store can be limited to registered customers, wholesalers or for everyone (you can decide which solutions suits your business best)
Limited access to offer only for chosen delivery regions (based on postal codes).
Mobile devices optimization (smartphones, tablets).
Shopping cart:
Display of net and gross prices.
Dynamic basket management - customer can easily change number of products in the cart both from the product list and a product card of each item.
Adding large quantities of products has been improved.
Three modes of displaying product list, including a special mode of "fast shopping".
Facilitated adding large groups of different products into the cart
Special cart subpage grouping products of different sizes.
Simplified check-out-process available in the header of a shop.
Purchases and payments:
Managing customer balance and credit limit for trade credits.
Separate discount and promotion system for wholesalers.
Hiding prices and the possibility to purchase products for retailers (again - you decide).
Support for all typical delivery and payment methods.
Available installment systems.
Possibility to define own deliveries with set dates and a division for products.
Products and a search tool (navigation):
Intelligent search with hints.
Additional information important for wholesalers available on a products list subpage.
Possibility of turning on and building your own product list filters.
Five separate navigation menus for products, links and information subpages.
Rich product descriptions - short and long descriptions, parameters, codes, photos.
Supporting sets, units of measure, colors and sizes.
Configurators for products available in many versions or the ones which are custom-made.
Add-ons:
Contact forms.
Integration with social networking.
Integration with installment systems.
Loyalty program.
Affiliate program.
Gallery presenting the layout on different screen sizes:
Available language versions



STANDARD B2B RWD layout gallery:
Basic pages of the wholesale store with full functionality:
Most interesting features of the layout:
Adjusting the store to your needs
STANDARD mask is a free, yet universal solution. Please remember that every professional seller needs to stand out from the rest. That is why, you should adjust your store mask to your individual needs and your business branch. Colors should harmonize with your logo and the functions should be adjusted to your assortment. You do not have to commission costly, time-consuming changes. Thanks to the possibility of introducing a few distinctive, necessary changes, you will get a professional, fast implementation of a high quality. By commissioning works to our specialists, you have the guarantee of the highest quality possible and that the task will be performed quickly and safely, so you can rest assured, that your store will remain on-line and fully functional even during the process of uploading changes. Learn more about changes in the shop design.
We recommend comprehensive individual implementation of a wholesale store within one of available implementation packages.
Moderation and mask configuration
Please go to Banners, photos, navigation menu, to learn which graphics sizes and graphics proposals should be prepared to use STANDARD B2B RWD layout to its fullest. Such information is recommended for people using standard layout version and the ones employing own graphic designers. The clients for whom we prepare individual wholesale implementations receive full instructions concerning these elements from the mask supervisor.